A sharp and clear mind is always one of the top aims a person may have. In everyday living, there are lots of situations that call for mental clarity, especially those circumstances that require recall, comprehension, and decision-making. Due to the fact that mental activities are inevitable in a person's day to day tasks, there is a great demand to maintain a significantly focused mind. Nowadays, various methods and treatments are adopted in order to obtain mental clarity.
Among the most popular approaches to boost mental clarity and concentration is the use of herbal supplements. Most herbal supplements that are formulated to boost testosterone levels are believed to provide mental clarity as well. This result is associated with some of the ingredients that make up the supplements such as Horny Goat Weed, Maca, Mucuna Pruriens (L-Dopa), Polypodium Vulgare, Yohimbe Bark, Saw Palmetto, Muira Puama, Arginine (L-Arginine Hydrochloride), and Panax Ginseng. These are among the active components present in certain testosterone-boosting supplements. The next question to answer is, "How do these ingredients help in achieving and maintaining mental clarity?" The information below briefly explains how these components function in the human body and contribute to the improvement of one's clear and focused mind.
Wise Living Key Points
Ashwagandha Root Extract
This natural herb is sometimes termed as Indian Ginseng or Withania somnifera. It has been largely used to enhance mental clarity. Several studies show that the bioactive constituents of this herb do not only help in increasing testosterone levels and lower prolactin but also promotes good sleep.* As a person gains better sleep, damaged neurons caused by stress are regenerated. Because of this, a person's mind becomes fresher and sharper as compared to those who have unhealthy sleeping habits.
Arginine (L-Arginine Hydrochloride)
Some researches reveal that Arginine improves the immunity of the human body against bacteria and viruses.* This includes bacteria that would interfere with neurotransmitter functions. In this way, mental health is maintained and guarded against components that threaten and damage neurons therefore, increasing the percentage of a better functioning mind. It yields improved memory focus and added attention.
Polypodium Vulgare, Yohimbe Bark, Saw Palmetto, Horny Goat Weed, Maca, Muira Puama, and Panax Ginseng
These ingredients greatly help in stabilizing estrogen levels and lower prolactin levels.* In the medical world, prolactin has the capability to counteract production of estrogen. Once the level of estrogen is very low, it can cause significant disturbances in females' physiological development. As a result, mood swings become more evident. However, when a person has mood swings, he or she is capable of switching the behavior. High prolactin levels contribute to intensify recurrent mood shifts and this is not very healthy for the brain. The properties of these ingredients lower prolactin levels. Because of this, estrogen levels are increased, moody feelings are decreased, and a healthy mind is achieved. They are also considered anti-stress herbal supplements.
In today's extremely demanding world, having sharp and focused thinking is undeniably important. If you are planning on enhancing your mental clarity, herbal supplements with these ingredients can help you achieve your goal.
WiseLifeNaturals physician formulated products give you proven results to achieve your wellness goals, especially when you pair them with our health and fitness tips for Herbal Supplements that Promote Mental Clarity.
Learn more about our best selling formula:
AdderPlex™ with KSM66® Supports Concentration, Focus, Energy, Memory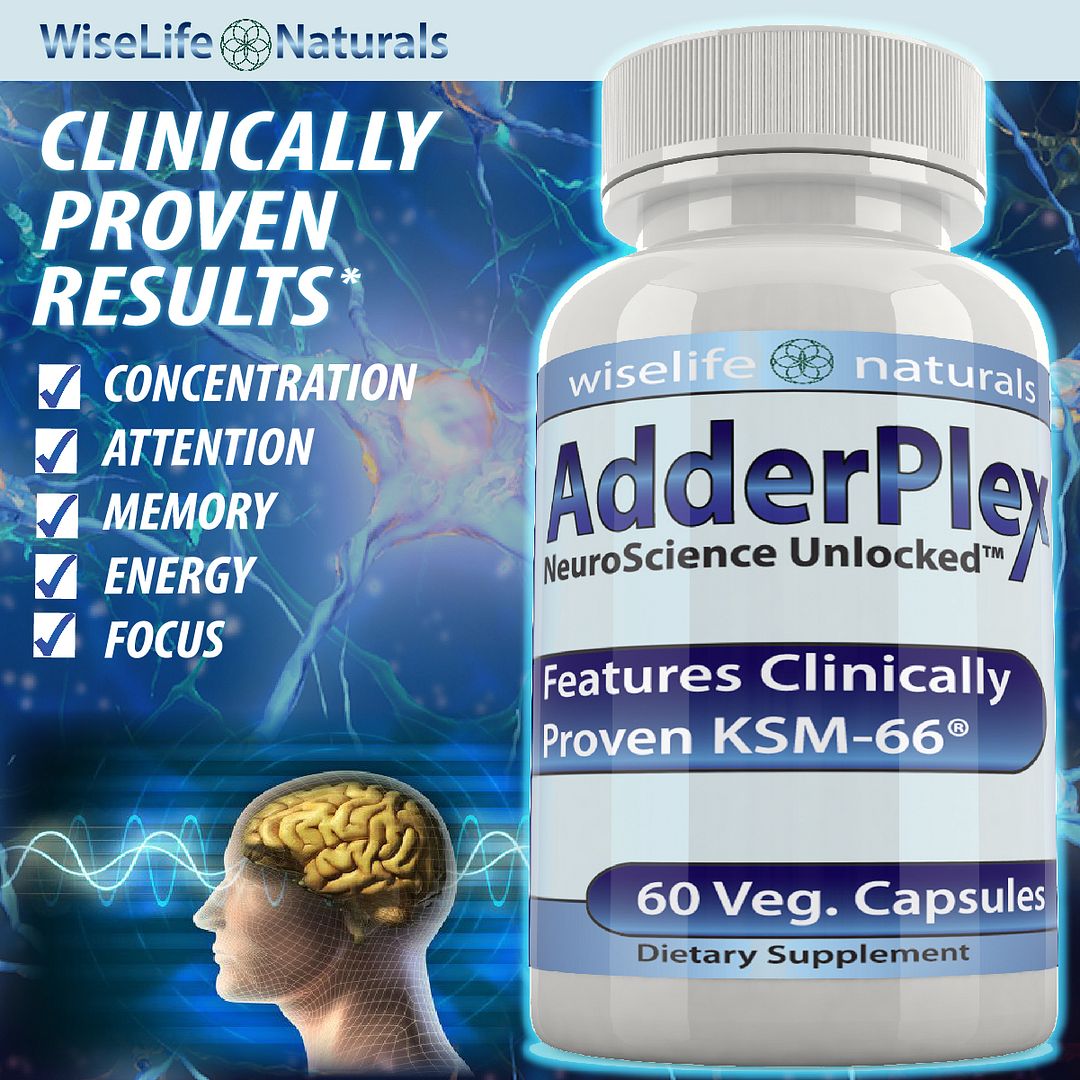 *These statements have not been evaluated by the Food and Drug Administration. This product is not intended
to diagnose, treat, cure, or prevent any disease.