Description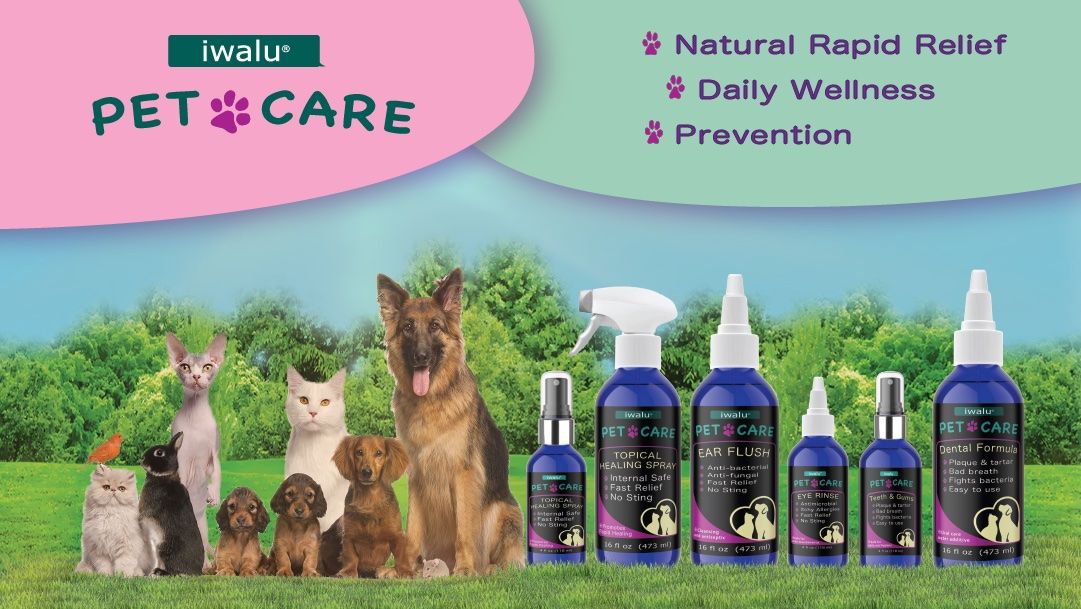 GTIN: 16oz 00850037971046 / 4oz 00850037971039
Select from 16oz home size & 4oz travel size
Shelf life: Up to Five Years (Expiration on product)
🐾  Dog and cat teeth cleaning dental care formula
Benefits:
No Taste / Flavorless / Sting Free
 🐾  TOOTH CLEANER  – Iwalu Advanced Teeth & Gums Water Additive is the first and only clinically proven teeth cleaner in a bottle. Best for pets with minor and advanced dental issues, halitosis, swollen gums, and/or discolored teeth.
 🐾  ADVANCED FORMULA – Strong, safe and effective at 10ppm silver, this advanced formula is designed to specifically target dog plaque and tartar build-up along with bacteria and bad breath. It's beneficial for everyday use for cats and dogs.
 🐾  ELIMINATES BAD BREATH – In addition to eliminating pet plaque and tartar, this pet oral care water additive freshens breath and protects gums while improving overall dental health.
 🐾  EFFECTIVE & AFFORDABLE – iwalu Pet Care Teeth & Gums is created with veterinary-grade ingredients, available at an affordable price. We know dogs and cats deserve the best care because we are pet parents too.
PRODUCT DESCRIPTION:
Our dog teeth cleaning formula is perfect for your furry friend. Dental disease is a very common problem troubling many dogs and cats, with an even higher probability of affecting smaller breed dogs.
Gum disease is shown to have a correlation with heart disease due to bacterial toxins, destroyed tissue and live bacteria traveling from the mouth into the bloodstream, which can build up and attach to the arteries surrounding the heart.
The good news is, with proper dog dental care and early detection, gum disease can be prevented, treated, and even reversed. Because pets can't take care of their own mouths, it's vital their pet parents do.
That is why we have created our dog mouthwash to protect our beloved furry friends from gum disease and tartar buildup plus it works as a bad breath treatment for dogs. Our Human Grade ingredients are potent, yet completely safe for your pet.
The active compound, Silver Ions in a super oxygenated solution, provide 10PPM silver to combat bacteria and infection.
Is silver safe to use for my pet? 
Yes, our product is formulated with the most up to date science. Our formula is safe for both humans and pets.
The EPA has, for health purposes, established a daily oral reference dose (RfD) for silver over a 70-year study performed on adults of an average 154 lb (70 kg) in weight. This RfD is 350 micrograms of silver per day. Based on this guidance, 10 ppm can be taken up to 7 times a day, but still be below the RfD.†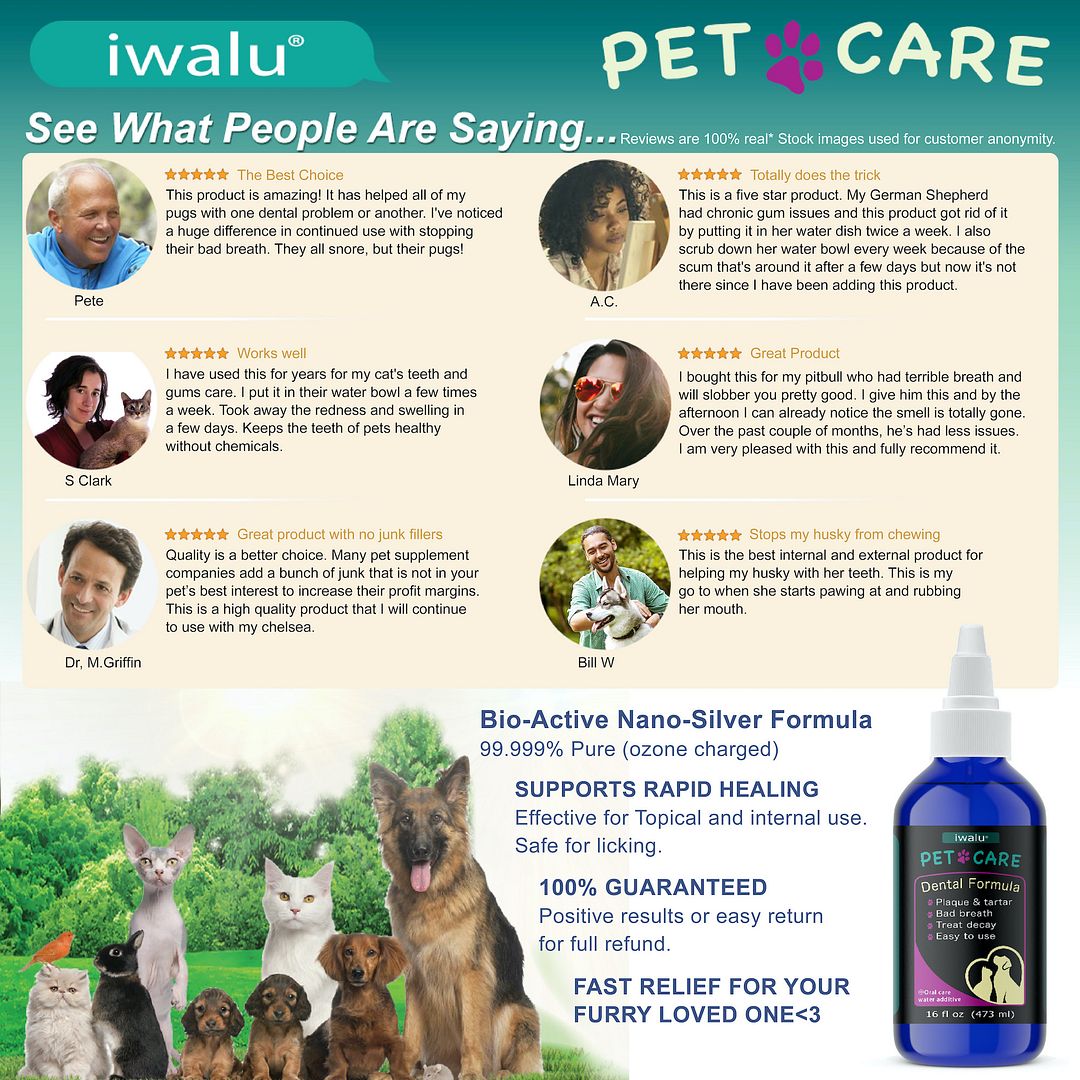 INSTRUCTIONS:
How Much Dental Formula Should I Give to My Pet?
For pet oral health use as a daily drinking water additive:
The best method is to add the formula to Distilled Water (inexpensive at most grocery markets) in replacement for your pet's regular water. Unlike purified, mineral, or tap water – distilled water maximizes the efficacy of the silver solution.
By weight, we suggest the following dosages:
2 to 10 lbs.– 3 fine mist sprays.
11 to 30 lbs.– 0.25 tsp. 
31 to 65 lbs.– 0.5 tsp.
66 to 100 lbs.– 0.75 tsp.
101 to 150 lbs.– 1 tsp.
151 lbs. and over– 1.5 tsp.
(1 ounce = 6 tsp. / 16 ounces = 96 tsp. / 4 ounces = 24 tsp.)
Use as a dental water additive and mouthwash to protect your beloved furry friends from gum disease and tartar buildup, plus it works as a bad breath treatment for dogs and cats.
Daily oral health maintenance: Add to drinking water** – 1/4 tsp for small pets under 30 lbs, 1/2 tsp for medium to large dogs, and 1 tsp for dogs over 100 lbs. Add full strength to their water, in a non-metal dish (metal contact diminishes the efficacy of the bio-active silver). 
**Give your pet 1 ounce of drinking water for every pound that they weigh, every day. They may require more if very active or pregnant.
Replacing tap or filtered water with inexpensive distilled water maximizes the efficacy of the silver.

For full strength teeth and gum direct application:
2-3 sprays into the mouth on effected area, up to 3 times daily. Prevent your pet from drinking or eating for 5 minutes before or after application.
Spray full strength onto the affected area. Do not add water as the natural minerals in tap water or purified water interfere with the potency of the silver ions.
Give treatment 2 to 3 times daily for abscess infections and gum disease.
Marked improvement should be visible within three to five days.
Please consult your veterinarian if teeth or gum issues become a consistent or worsening problem. 
HOW DOES THE DENTAL FORMULA WORK?
As you are already aware, germs, fungus, and infections are all living organisms that count on oxygen for their metabolic processes. Usually, they utilize an enzyme to enable the use and process of oxygen.
The silver ions in the silver colloid attack this enzyme and damage it from within. Subsequently, these pathogens are not able to use oxygen and pass away.
Rely on iwalu Pet Care Formulas to give your pet the best care for all their wellness needs.
† According to the EPA (CASRN 7440-22-4) daily Oral Silver Reference Dose (RfD) applied to 10 ppm, one adult may ingest 178,850 servings safely over 70 years.
NOTE: Bio-active silver (the form of colloidal silver in iwalu pet care products) has been classified in Canada by the Natural & Non-Prescription Health Product Directorate (the risk assessment division of Health Canada, the Canadian equivalent to the US FDA) as a Trace Element, meaning an essential element for the maintenance of good health.* It is a pure mixture of silver ions and silver nano-clusters in suspension, with the highest bioavailability of silver at >98%. The particles are smaller than any other form of silver, therefore it is very effective in the low, safe 10 ppm (parts per million) concentration.*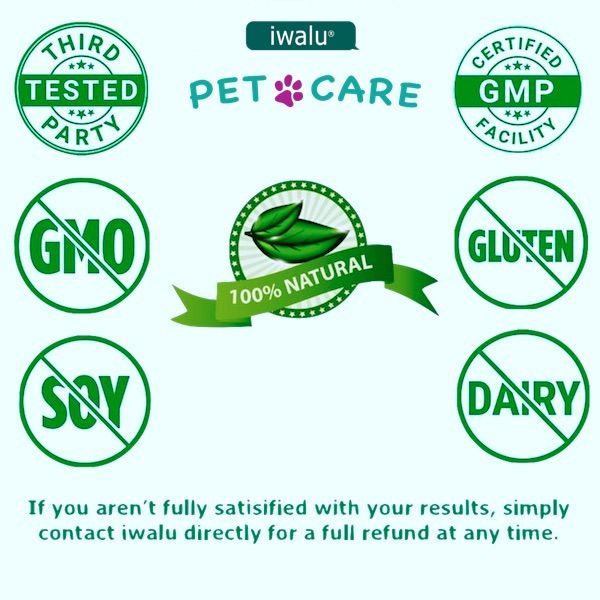 Check out our other Pet Care products!