Description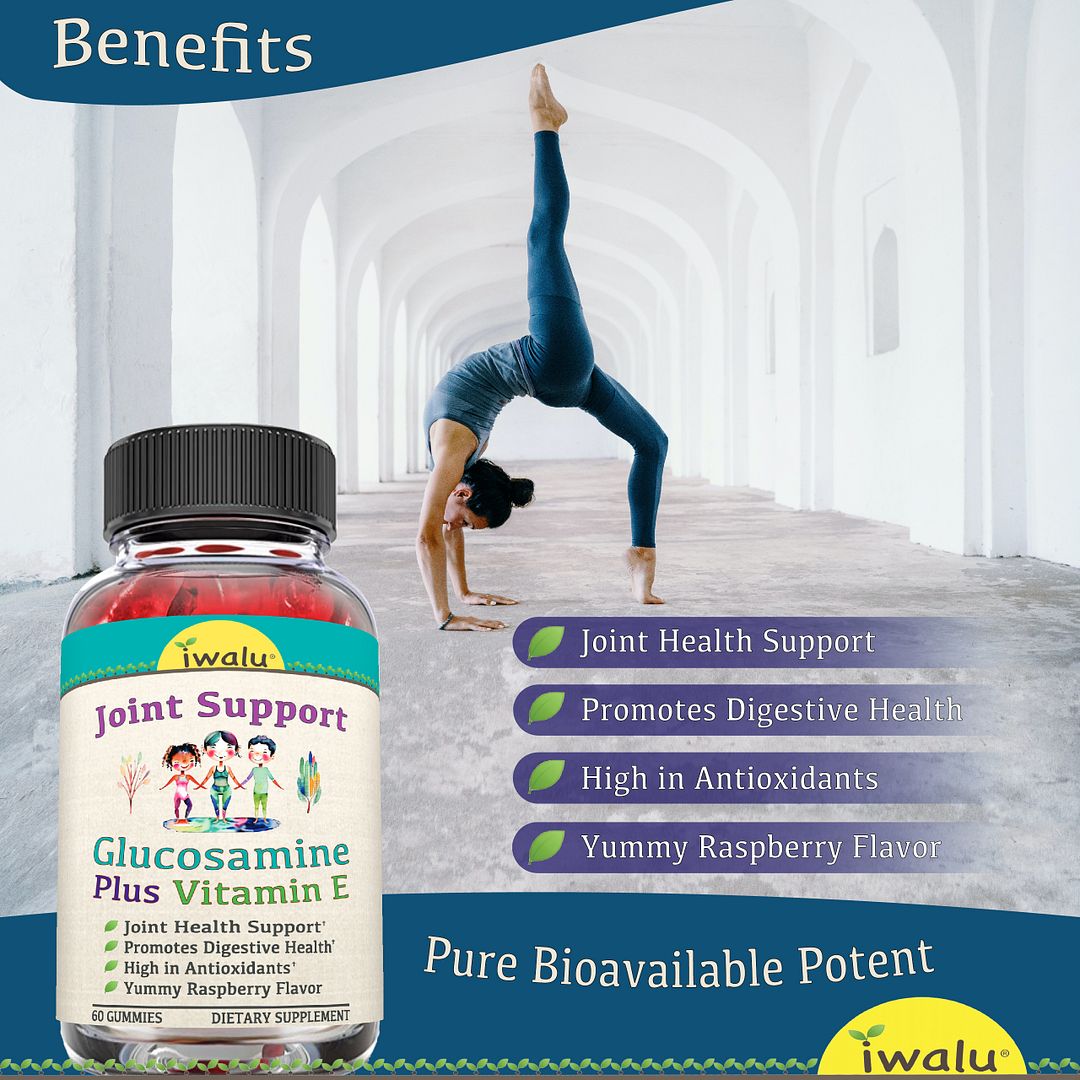 Glucosamine Sulfate Gummies | Joint Support Supplement
Extra Strength Joint Flexibility, Health, & Movement
Supports Relief for Back, Knees, & Hands
Joint Support Gummies with Glucosamine Sulfate | Fast & Effective with a yummy natural raspberry flavor – iwalu's science backed formulation of glucosamine sulfate supplement provides support for all joints, bones, and cartilage. 
Mobility, Movement, Strength and Flexibility | Supports Joint Health: Every 2 gummy serving packs a full 160mg dose of glucosamine sulphate to provide effective benefits for joint health support.
Extra Strength Glucosamine Sulfate | High bioavailability natural joint flexibility support. Powerful cartilage joint health supplement plus immune health support supplement. Enjoy Delicious and Convenient natural joint support with these berry flavored gummies.
Plus Antioxidant Immune Support | Includes bioactive Vitamin E to help defend against free radicals and oxidation. Supports healthy mobility and specifically for joint support for women, men, adults.
Made in USA,  iwalu all natural gummy vitamin supplements | Manufactured under strict cGMP guidelines plus third party tested for quality and purity. Just good gummies! Non-GMO, NO artificial flavors, additives, colors, fillers, preservatives, hormones — Enjoy fast relief with iwalu gummies today…
iwalu Joint Support Gummies and You:
Joint Support Gummies, Natural Raspberry Flavor
Fast acting support for Your Joints and Flexibility plus Vitamin E Antioxidant
Glucosamine has been shown to have many benefits for your joints. Our glucosamine supplement provides powerful nutrients formulated to optimally support your body in motion. Glucosamine is an excellent choice to give your body the most effective natural supplements for joint health. It plays a critical role in your cartilage within all of your joints as it is an important natural building block in your body. 
Extra Strength Glucosamine Gummies are the go-to joint support supplement for active sports enthusiasts like Runners, Body Builders, Golfers, Cyclists, Tennis Players, Swimmers, Skiiers, and Weightlifters.
Joint Health, Flexibility & Relief for Back, Knees, Elbows, Hands
Our advanced formulation glucosamine sulfate supplement provides effective support and relief for joints, bones, and cartilage. Adult joint gummy vitamins provide effective and delicious joint health support for better mobility, movement, strength and flexibility.
Joint Support Supplement Gummies for Adults:
📊 What Does the Research Say?
Glucosamine Sulfate has been identified as the best form of glucosamine

Vitamin E is a powerful antioxidant that helps defend against free radicals and oxidation

The only natural food sources of glucosamine are shellfish shells (shrimp, lobster, crabs)
QUANTITY PER BOTTLE: 60 Gummies
Ingredients
Glucosamine Sulphate, Vitamin E (as Dl-Alpha-Tocopheryl Acetate), Sodium. 19 calories per serving. Other Ingredients: Glucose Syrup, Sugar, Glucose, Pectin, Modified Starch, Citric Acid, Vegetable Oil (Contains Carnauba Wax), Purple Carrot Juice Concentrate, Natural Raspberry Flavour. Non-GMO, NO artificial flavors, additives, colors, fillers, preservatives, hormones. Contains: Shellfish (Shrimp & Crab).
Directions
As a dietary supplement, take two (2) gummies once a day, with or without a meal.
Safety Information
Do not exceed recommended dose. Pregnant or nursing mothers, children under the age of 18, and individuals with a known medical condition should consult a physician before using this or any dietary supplement. Keep out of the reach of children. Do not use this product if the safety seal is damaged or missing. Store in a cool, dry place. Warning: Please note that in some rare cases taking supplements may cause upset stomach, heartburn, bloating, constipation, fatigue, headache, dizziness, nausea, vomiting, diarrhea, reactions including rash, itching, coughing, swelling, or sickness. If you experience these or any other adverse effects or other reactions, you should immediately discontinue use of the product and contact your physician.
Related terms with best glucosamine advanced bone flex glucosamina, glucosomine, glusomine gummy for health humans hip joints knee men to move natural natures peak gummies nutrition. Strength sulfate supplements triple vegan vitamin vitamins women capsules pills cartilage chewable cosamin e extra strenth hip. Best Chondroitin and colageno condroitin condroitina curcuma curcumin extra flex free gloucosime glucosamina juice move movement msm nutritional osteo pills and products soothe strength sulfate supplements triple tumeric turmeric pills.
Legal Disclaimer: Due to the seasonality of our harvests, capsule color may vary slightly. All of our products are grown & harvested in the United States for the highest quality & potency. The packaging may slightly vary.
*Statements regarding dietary supplements have not been evaluated by the FDA and are not intended to diagnose, treat, cure, or prevent any disease or health condition.