Description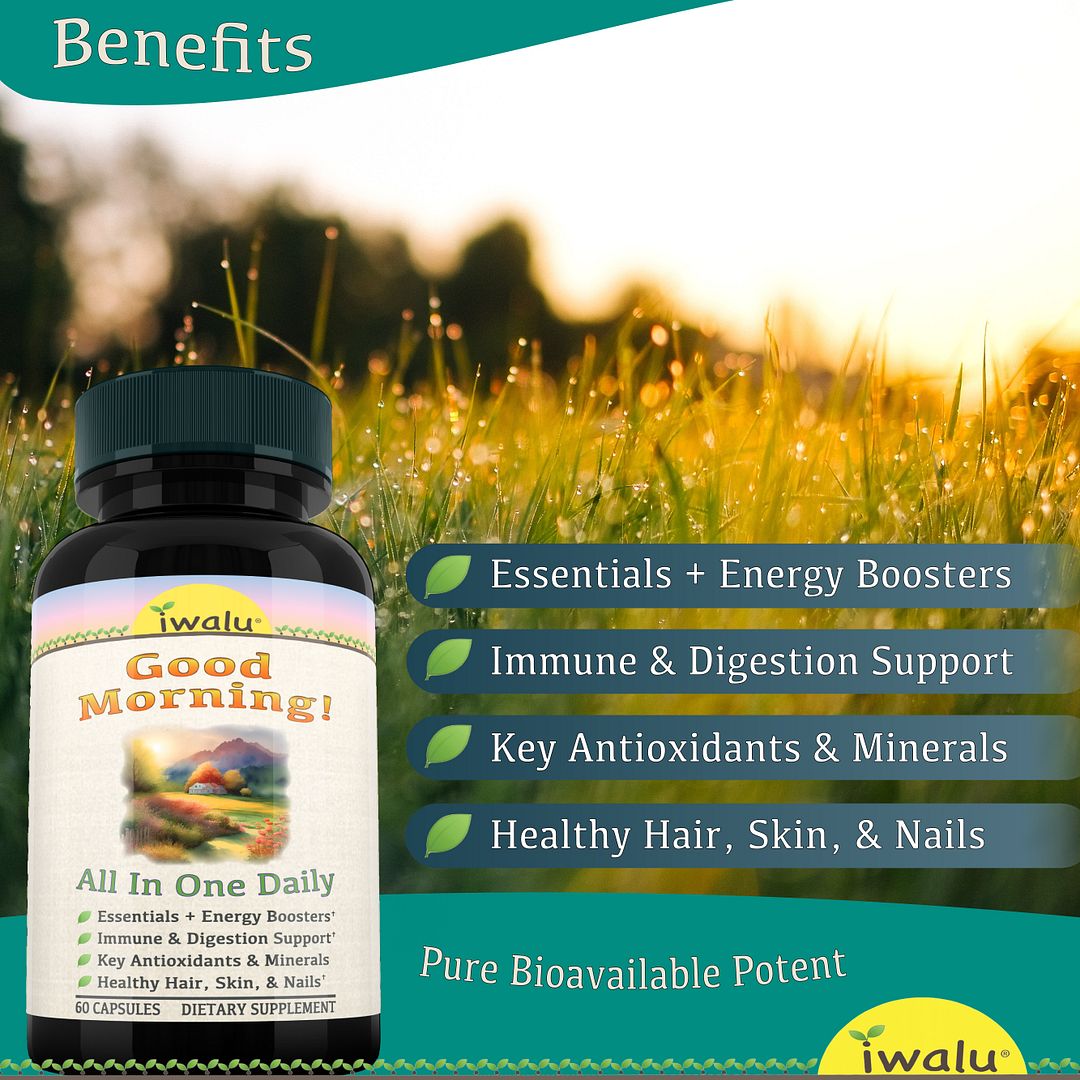 Good Morning! Multivitamin Complex


All-In-One Daily Vitamins 
Vitamin Essentials + Energy Boosters*
Metabolism, Immune & Digestion Support*
Key Antioxidants & Minerals
Healthy Hair, Skin, Nails, & Eyes*
MULTIVITAMIN FOR ACTIVE ADULTS | Our multivitamins meet the unique needs of women and men over 40 & 50 plus, during their prime productive years. 20 Vegan vitamins minerals like vitamin A, C, D3, E & B vitamins complex B12, B6, Biotin, Niacin and more…
MINERALS ARE ESSENTIAL | Our multi vitamin helps you fill nutrient gaps, delivering Magnesium, Zinc, Copper, Selenium, Calcium, Manganese, Chromium & Molybdenum, plus an antioxidant & immune support complex
COMPLETE HEALTH FORMULA | 15 Herbal extracts and superfoods support healthy energy metabolism and muscle function, immune system, cognitive & stress support, digestion, gut, heart & reproductive system health plus hair, skin, bone, and eye health.*
HAVE A GOOD MORNING! | Rise and shine by nourishing your body with vitamin, minerals, antioxidant herbs and nutrient cofactors to provide total wellbeing support throughout your day.* — Easy Swallow Capsules. No horse pills or chaulky tablets!
QUALITY MADE IN USA | iwalu is proud to partner with local farmers and suppliers for our Lab Tested Made in America ingredients, with verified quality and potency. Non-GMO, Gluten Free & Kosher. Give yourself and your loved ones the best with iwalu. Enjoy the benefits of Good Morning Daily, Try it today… 
iwalu All-in-One Daily and You:
Good Morning! provides the perfect amount of vitamins, minerals, antioxidants, and herbs in a once a day complex – in easy to swallow capsules. In our fast-paced world, we often do not get our daily recommended allowance of vitamins, minerals and other nutrients. Good Morning! helps to bridge the nutrient gap in your diet.
Enjoy daily immune support, increased energy, and mental alertness by providing your body quality vitamins, minerals, and herbal extract nutritionals. Each day, start by giving your body exactly what it needs for you to enjoy an active healthy lifestyle.
Our All-in-One Daily is a comprehensive multi-nutrient formula, specifically designed to meet the unique needs of active women and men in their prime productive years, providing the nourishment the body craves to maintain optimal health and wellbeing.* 
In formulating "Good Morning" iwalu paid special attention to the complex functions and needs of our bodies as we age over 40 and 50 plus. 
Whole Body Health:
Comprehensive superfood herb extracts support healthy gut, metabolism, and digestion, boost the immune system, contribute to heart and reproductive system health* with vitamins A, B12, C, D3, E, plus  Magnesium, Copper Gluconate, Zinc, Chromium, Cinnamon Cassia Extract, and more. 
Support the reproductive system with Folate, Saw Palmetto, and Cinnamon. Boost a healthy immune response with Echinacea Extract, Beta Glucan, Spirulina, and Garlic (odorless). Helps manage normal blood sugar levels with Lycopene, Chromium, Magnesium, Vitamin D3, Zinc, and Folate. Nourish hair, skin, and nails with Biotin, B vitamins, D, and Stinging Nettle Extract.  
Super antioxidants help your body detox and cleanse daily while supporting healthy weight management; Green Tea Extract (Camellia sinensis) (leaf), Hawthorn Berries (Crataegus pinnatifida), Cinnamon Bark Extract (Cinnamomum cassia), Bilberry Fruit Extract (Vaccinium myrtillus), Grape Seed Extract (Vitis viniferaL), Black Currant Fruit Extract (Ribes nigrum), Pomegranate Fruit Extract (Punica granatum).
Enjoy the benefits of Good Morning Daily, Try it today… 
QUANTITY PER BOTTLE: 60 Veg. Capsules / 30 Day Supply
Safety Information: Not Recommend for Anyone Under the age of 18 or have ANY pre-exisiting medical condition or if you are taking any prescription medications. KEEP OUT OF REACH OF CHILDREN. STORE IN A COOL, DRY PLACE. This product is manufactured in a facility which may also process milk, soy, wheat, egg, peanuts, tree nuts, fish and shellfish. Not recommend for those prone to severe allergies and or reactions or those that experience migraine's, nausea, or anxiety
Ingredients: Keto, Paleo, and Vegan friendly; USA manufactured and safety sealed. Please see label image for complete ingrediets and supplement facts. This product is Third-Party tested,  Non-GMO, NSF Certified Facility.  Does Not Contain: synthetic binders, fillers, artificial ingredients or additives.
Directions: As a dietary supplement, take two (2) Capsules in the morning with a meal.
Legal Disclaimer: Due to the seasonality of our harvests, capsule color may vary slightly. All of our products are grown & harvested in the United States for the highest quality & potency. The packaging may slightly vary.
*Statements regarding dietary supplements have not been evaluated by the FDA and are not intended to diagnose, treat, cure, or prevent any disease or health condition.