Description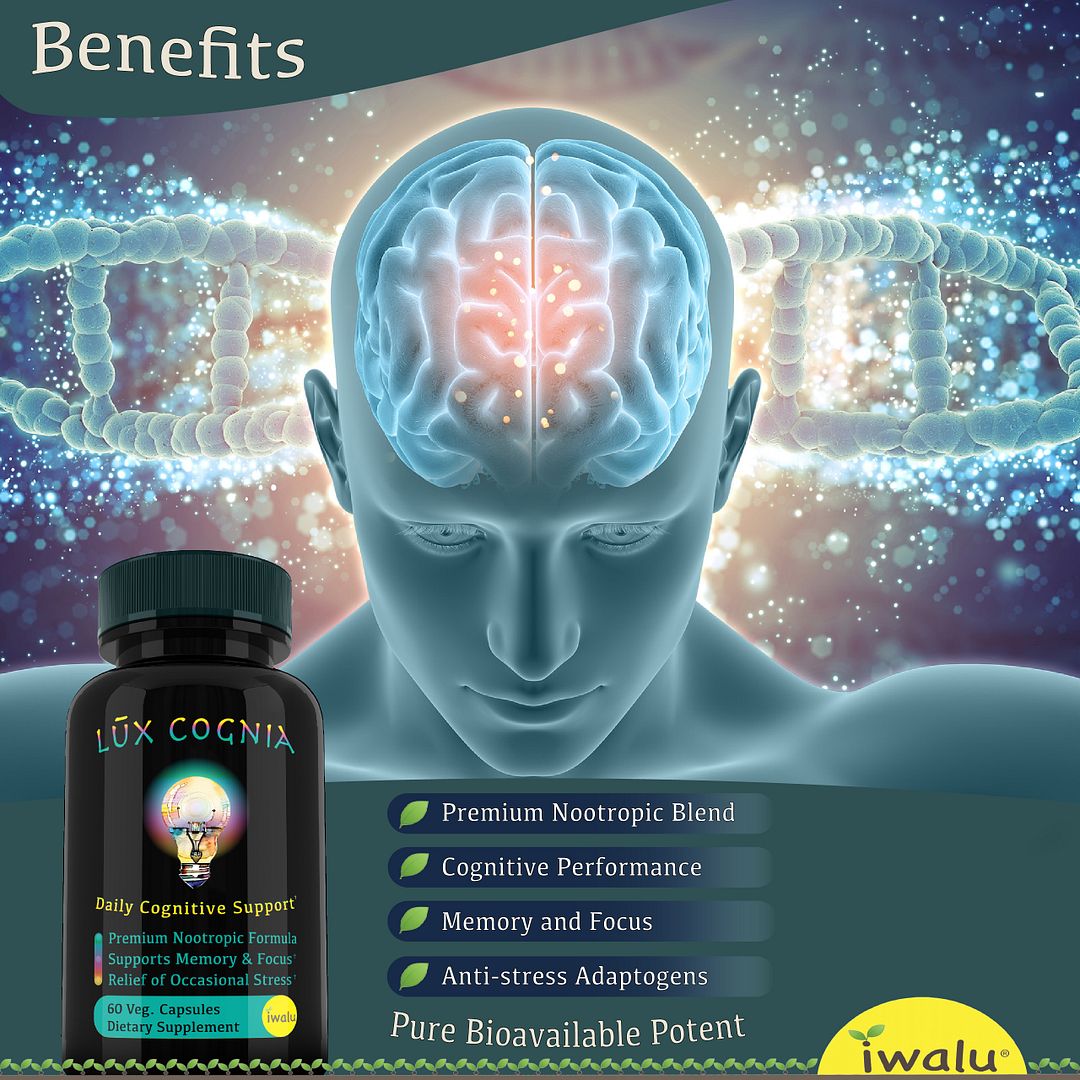 Lux Cognia Nootropic Brain Support Supplement
Premium Nootropic Brain Supplement For Memory, Focus & Concentration
💡 Mental Focus & Memory Supplement for Brain Health
💡 Boost Energy & Cognitive Function for Women & Men
💡 Caffeine-Free Focus Capsules for Concentration and No Crash 
💡 Brain Boosters for Brain & Memory Support 
PEAK MENTAL PERFORMANCE | Our formula is designed to support memory, mental focus, and clarity. Nootropics are great for working, studying, and physical training to utilize optimized brain power and energy. Kick-start your day with Lux Cognia Nootropic blend, and fuel yourself to get more done.
NOOTROPICS BRAIN SUPPORT SUPPLEMENT | Mental Focus Nootropic Memory Supplement for Brain Health. Premium Energy and Focus Vitamins, Minerals, plus Brain Focus and Performance Blend that Includes; DMAE, Bacopa, Phosphatidylserine, Gaba, and more…
BEST BRAIN SUPPLEMENT FOR MEMORY AND FOCUS | Our science backed nootropic supplement is enhanced with many of the finest brain vitamins, minerals, and herbs including; Inositol, Bilberry, Huperzine A, DHA, Magnesium and more…
MEMORY PILLS FOR DAILY BRAIN SUPPORT | Our brain health supplement is a powerful stack of mental performance enhancers. Our natural and safe nootropic cognition formula has a variety of vitamins to support and protect brain health.
SHARP MENTAL FOCUS SUPPLEMENT | Formulated for women and men to improve attention with our nootropic supplement that contains memory vitamins for the brain like; vitamin D3, B vitamin complex with B6, vitamin E, vitamin A,  Folate and GABA
ANTI BRAIN FOG SUPPLEMENT | Our comprehensive brain booster supplement naturally supports cognitive clarity and performance with Bacopa Monnieri, Licorice Root Extract, Magnesium and Chromium picolinate.
QUALITY MADE IN USA | Only the best ingredients make up our premium focus supplement – formulated and bottled in our American cGMP NSF Certified facility. 3rd party tested for purity and potency.
Get inspired with bright ideas and lasting memories. Try Lux Cognia today…
LUX COGNIA NOOTROPICS AND YOU:
Lux Cognia – The Ultimate Brain-Boosting Elixir for the Modern Mind!
Are you tired of feeling like your brain is running on empty? Do you wish you could focus better, remember more, and have the mental clarity of a Zen master? Look no further, because we've concocted the perfect blend to awaken your cognitive powers and unleash your full potential!
Packed with a potent mix of cutting-edge ingredients, Lux Cognia is not your average men's vitamin. It's a game-changer, a brain-revving dynamo that will leave you feeling like a mental superhero. Say goodbye to brain fog and hello to crystal-clear thinking, with an extra dose of razor-sharp focus.
Let's dive into the magical ingredients that make Lux Cognia the ruler of cognitive enhancement. First up, we've included a potent daily vitamin mineral complex and GABA supplements that optimize neurotransmitter function – helping put your mind at ease, bidding stress and anxiety farewell. No more racing thoughts or mental roadblocks – just smooth sailing through the stormy seas of life.
But that's not all! We've harnessed the power of DMAE, Bacopa, and glutathione – master antioxidants that not only supports brain health but also keeps your entire body functioning at its peak. Think of it as your brain's personal superhero, defending against oxidative stress and promoting optimal cognitive function.
Speaking of optimization, our vitamins for men have been meticulously chosen to deliver the essential nutrients your brain craves. From phosphatidylserine, enhancing memory and mental clarity, to DHA supplements for a youthful brain and harmonious balance, we've got all angles covered.
Need an extra boost to conquer the daily grind?
Our adrenal support blend has got your back. It's the secret weapon to combat fatigue and skyrocket energy levels, helping you stay focused and motivated throughout the day. No more mid-afternoon crashes or yawning marathons during meetings!
If you're on the hunt for an ADHD supplement for adults, look no further. Lux Cognia has been specially crafted to support brain function, attention, and mental performance, granting you the laser-like focus you've always yearned for. Finally, you can tackle tasks with the precision and efficiency of a highly trained ninja.
But we haven't forgotten about the wise gents in their golden years. Our one-a-day men's multivitamin is tailored for the 50-plus crowd, delivering a precise blend of nutrients to support memory, vitality, and overall brain health. Say hello to sharper cognition and bid farewell to those pesky senior moments!
Now, let's address the aftermath of a night of revelry – the dreaded hangover. Fear not, for Lux Cognia doubles as your trusty hangover prevention companion. With our proprietary blend of antioxidants, liver-supporting herbs, and detoxifying wonders, you'll wake up feeling like a million bucks, ready to conquer the world once again.
Women's support too…
Lux Cognia also caters to the ladies, with vitamins designed for women 40 to 60-plus. We understand that women's brain health needs are unique, and our formula addresses those specific concerns. From hormonal balance to memory support, we've got the formula to keep you at the top of your game.
Feeling a bit down in the dumps? Our mood support supplement is here to lift your spirits and bring back the pep in your step. With a meticulous blend of serotonin and dopamine supplements, get ready to experience a surge of positivity and zest for life. Say goodbye to the blues and hello to a brighter, happier you!
Lux Cognia isn't just another nootropic; it's a ticket to a world of limitless possibilities. Whether you're a student cramming for exams, a professional looking to enhance productivity, or simply someone who wants to unlock their full mental potential, Lux Cognia has got your back.
We didn't stop at cognitive optimization.
We understand the importance of overall well-being, and that's why Lux Cognia is packed with a variety of additional benefits. Our blend of antioxidants helps protect against oxidative stress, supporting not just your brain but your entire body. You'll feel the difference from head to toe!
For those seeking a natural approach to brain health and aging, Lux Cognia is the answer. With a powerful combination of advanced memory formulas and brain-boosting ingredients like bacopa monnieri, you can nourish your mind and keep it sharp for years to come. It's like giving your brain a luxurious spa day!
Say goodbye to forgetfulness and hello to a youthful, agile mind. Lux Cognia is your partner in the quest for mental clarity, improved focus, and enhanced memory. It's time to unlock your brain's full potential and embrace a life of limitless possibilities.
Don't settle for a mediocre brain when you can have a Lux Cognia brain! Try it today and experience the transformative power of cognitive enhancement. Get ready to ignite your cognitive powers and embark on a journey to mental greatness.
Your brain deserves the best, and Lux Cognia delivers nothing less. Try it today!
---
QUANTITY PER BOTTLE: 60 Veg. Capsules / 30 Day Supply
Directions: As a dietary supplement take two (2) veggie capsule once a day. For best results take 20-30 min before a meal with an 8oz. glass of water or as directed by your healthcare professional.
Ingredients: (Keto and Paleo Diets Friendly);
BRAIN AND MEMORY VITAMIN COMPLEX; Vitamin A (as Beta-Carotene), Vitamin C (as Ascorbic Acid), Vitamin D3 (as Cholecalciferol), Potassium (as Potassium Citrate), Vitamin E (as DL Alpha Tocophery) Acetate), Choline (as Choline Bitartrate), SUPER B VITAMIN COMPLEX; Vitamin B1 (as Thiamine Mononitrate), Vitamin B2 (as Riboflavin), Vitamin B3 (as Niacin), Vitamin B5 (as D-Calcium Pantothenate), Vitamin B6 (as Pyridoxine HCL), Folate, Biotin.
ESSENTIAL MINERAL COMPLEX; Magnesium (as Magnesium Oxide), Zinc (as Zinc Oxide), Manganese (as Manganese Amino Acid Chelate), Selenium (Selenium Amino Acid Chelate), Calcium (as Calcium Carbonate), Chromium (as Chromium Picolinate), Iron (as Ferrous Fumarate), Molybdenum.
NOOTROPIC MEMORY FOCUS ENERGY BLEND (NO CAFFEINE); DAE Bitartrate (Dimethylaminoethanol), L-Glutamine HCL, Glutamic Acid, Green Tea Extract (Camellia sinensis)(leaf), Bacopa Extract (Bacopa monnieri)(whole herb), Inositol, Bilberry Fruit Extract (Vaccinium myrtillus), Gaba (Gamma aminobutyric acid), Grape Seed Extract (Vitis vinifera L.), Grapefruit Seed Extract (Citrus paradisi), Olive Leaf (Olea europaea L.), Cinnamon Bark Extract (Cinnamomum cassia), Licorice Root Extract (Glycyrrhiza glabra), Boron (as Boron citrate), DHA (Docosahexaenoic Acid), Vanadyl (as Vanady/ sulfate), Phosohatidvlserine, Huperzine A.
Safety Information: Do not exceed recommended dose. Not Recommend for Anyone Under the age of 18 or have ANY pre-exisiting medical condition or if you are taking any prescription medications. KEEP OUT OF REACH OF CHILDREN. STORE IN A COOL, DRY PLACE. This product is manufactured in a facility which may also process milk, soy, wheat, egg, peanuts, tree nuts, fish and shellfish. Not recommend for those prone to severe allergies and or reactions or those that experience migraine's, nausea, or anxiety
Legal Disclaimer: Due to the seasonality of our harvests, capsule color may vary slightly. All of our products are grown & harvested in the United States for the highest quality & potency. The packaging may slightly vary.
*Statements regarding dietary supplements have not been evaluated by the FDA and are not intended to diagnose, treat, cure, or prevent any disease or health condition.