Description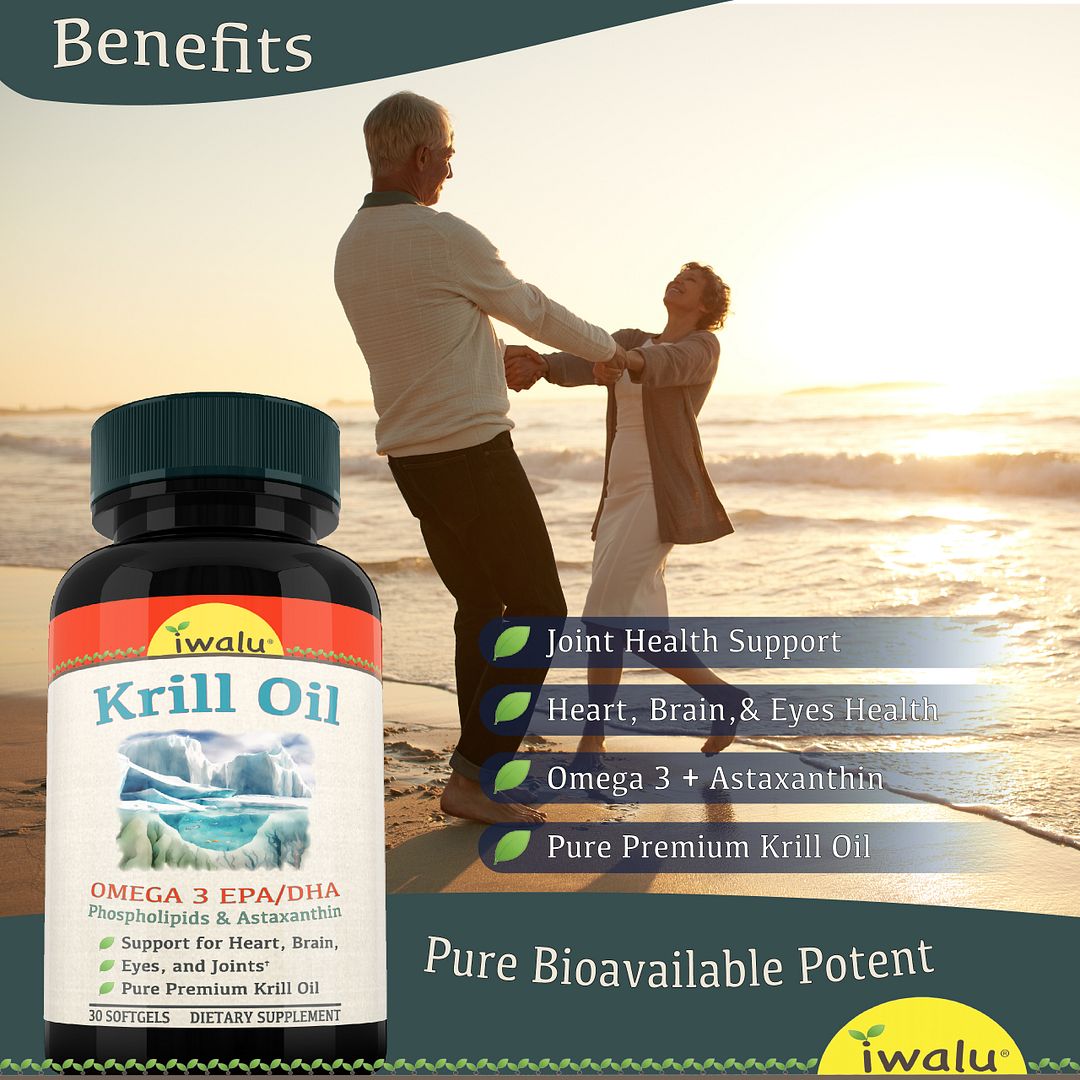 Antarctic Krill Oil – Omega 3 6 9 Astaxanthin
EPA DHA Fatty Acid Supplement
🦐 Antarctic Red Krill Oil
🦐 Mini Krill Oil Omega 3 for Women, Men, Kids
🦐 Burpless Mini Softgels (Non Fish oil) 
TRIPLE STRENGTH ANTARCTIC KRILL OIL | Phospholipids, EPA, DHA, with Astaxanthin – purity and source verified. You found the right omega supplement. Savvy folks know that the EPA and DHA in our krill oil may be higher in bioavailability than fish oil. iwalu gives you only the best – no fishy business.
GOT A HOT DATE? | These omega rich krill mini-gels feature fast, easy absorption, and they're SAFE FOR KISS'N! Fortunately this highly concentrated Krill Oil lacks the fishy burps, reflux (eeew), and aftertaste of other brands with lower-quality and added fish oils. Its safe to imagine your sweety will appreciate that. And, did we mention Krill Oil can energize you? (wink wink)
SMART HEART HEALTH | We put our hearts into making the best Pure Omega-3 Krill Oil. Well, really the credit goes to the Krill for their highly bioavailable omega-3 Phospholipid fatty acids that help support a healthy heart.* We put it all in tiny daily softgels. DYK? Krill gets its red color from Astaxanthin which is a natural powerful antioxidant.
WHY OMEGA 3 SUPPLEMENT? | iwalu Omega 3 Krill Oil may significantly increase your omega 3 index in just 30 days.* Research Supports that intake of EPA and DHA omega-3 polyunsaturated fatty acids (PUFAs) may reduce the risk of coronary heart disease.* In addition to omega-3s in fish oil offering cardiovascular support for men and women, they promote memory health, plus help keep your joints, skin, and eyes healthy as you age.*
QUALITY USA BRAND PRODUCT | iwalu krill are wild harvested using sustainable fishing practices – never farm raised. Our Antarctic krill live in the world's purest waters. They spend their days happily avoiding many of the toxins, chemicals, and heavy metals – like mercury, that many larger fish accumulate. Our softgels are Gluten-Free, Non-GMO, Tested for quality, purity and potency. 
Make iwalu Krill Oil part of your healthy lifestyle today…
iwalu Antarctic Krill Oil & You:
Get some Vitamin Sea!
Our Krill Oil contains a potent Omega-3 Complex known for supporting heart health, and is rich in Astaxanthin (Astaxantina), an antioxidant that combats cell-damage from free radicals.* iwalu's premium Krill is harvested from the pure, cold waters of Antarctica. Here in the USA, our certified labs put it in quick release softgels so you get a highly bioavailable omega 3, rich in krill oil.
What our Krill want you to know:
We Krill (Euphausia Superba) are a tiny ruby colored crustacean species (similar to shrimp). We're abundant in arctic marine life and often found in the whale diet. Our potent oil is only found in us Krill. Your preliminary research suggest that our krill oil can be superior to fish oil in the bioavailability of the omegas. Also, our oil can add an energy boost to your day to help you feel renewed – you're welcome!
About Krill Omega 3's
Omega 3's are healthy fatty acids in foods such as flaxseed, oysters, salmon, and Krill. Our potent softgels provide a mega source of essential good-for-you fatty acids. The softgels are mini sized, and being easy-to-swallow, this Krill oil is a superior alternative to other forms like pills, gummies, tablets or capsules. Our Antarctic Krill Oil is made from high quality liquid krill oil and is processed in the USA in our cGMP certified facility. Non-GMO, gluten free, and soy free. Just two micro softgels provide you with 1,000 mg of Krill Oil per day to better support your overall wellness.*
Why Are Krill Softgels Red?
The powerful antioxidant astaxanthin is abundant in Arctic Krill and is what gives these softgels their red color.
Is it going to make me burp like a dolphin?
No, thankfully for the rest of us, iwalu Krill Oil softgels contain only pure Krill Oil, not Fish Oil, and has NO FISHY AFTERTASTE OR REFLUX.
How does Krill Oil and Fish Oil differ?
Unlike fish oil, the Omega-3 fatty acids in iwalu Omega-3 Krill Oil are in a bioavailable phospholipid form that is easily absorbed by the body.
Why choose iwalu? 
Since 2011, we have obsessed over natural and organic vitamins, minerals, and herbal remedies. The entire iwalu team shares a dedication and commitment to creating quality products for you, our customer. Krill oil is one of our favorite superfoods and fortunately it's one of the world's most sustainable organisms.
---
Quantity
30 softgels / 30 + Days Supply
Ingredients
Krill Oil, Phospholipid Omega-3 Complex (EPA (Eicosapentaenoic Acid), DHA (Docosahexaenoic Acid), Other Fatty Acids, Phospholipids), Astaxanthin. Other Ingredients: Gelatin, Vegetable Glycerin. Non-GMO, No additives, No gluten, No soy, No Dairy, No artificial colors, No preservatives, No sugars, and No fillers. iwalu Krill Oil is formulated, bottled, and safety sealed in our FDA inspected, GMP & NSF Certified facility in the USA.
Directions
For adults, take one (1) quick release softgel up to two times daily, preferably with a meal – or as directed by your health care professional.
Safety Information
People with shellfish allergy, coagulopathy or taking anticoagulants or other medications should notify their physician and be tested prior to taking dietary supplements. If pregnant, breastfeeding or on prescribed medication, consult your physician before using this product. KEEP OUT OF REACH OF CHILDREN. Protected with a tamper evident seal. Do not use if seal under cap is broken or missing. Store in a cool, dry place with lid tightly closed. The gelatin in softgel capsules may be derived from porcine or bovine sources. This product is labelled to United States standards and may differ from similar products sold elsewhere in its ingredients, labeling and allergen warnings.
Legal Disclaimer: Due to the seasonality of our harvests, product color may vary slightly. All of our ingredients are manufactured in the United States of the highest quality & potency. The packaging may slightly vary.
*Statements regarding dietary supplements have not been evaluated by the FDA and are not intended to diagnose, treat, cure, or prevent any disease or health condition.