Description
iwalu Colloidal Silver Immune Support | Bioactive Silver Solution Hydrosol
Iwalu Colloidal Silver Liquid Immune Support: Nano Silver Water Immunity Support | Dog & Cat Safe | Adults Kids Immune Booster 4, 8, 16 Oz
*Promotes immune system adaptive immune responses
*Natural Antibiotic Antiviral Antifungal Support
99.999% PURE SILVER COLLOIDAL IMMUNE SUPPORT: Don't stay home without it! (: Effective* for the whole family. Use nano silver colloidal silver immune support, taken daily, as a rapid absorption immune system booster.*

SUPER-OXYGENATED COLLOIDAL SILVER – in ozonated (oxygen enriched) distilled water. NO additives, coloring or stabilizers.*

CONVENIENT PUMP SILVER SPRAY – Enjoy the included nano spray which makes the silver solution easy to dose for kids and pets, both internally and topically for immune defense support*

IWALU IS MADE IN USA, PURE AND NATURAL – The unbreakable bottle and spray are BPA FREE and let you take silver immune support anywhere. TASTELESS, easy dose immune support for kids over 4 years old and immune booster for adults*.

UPC: 16oz 852181008999. 8oz 852181008616. 4oz 52181008227
LEARN ABOUT THE FORMULA AND BENEFITS OF SILVER IMMUNE SUPPORT – BIOACTIVE IONIC COLLOIDAL SILVER
National Institute of Health Users report; Please note: individual results may vary. Supplement for thirty to sixty days for max effectiveness.
"I've had chronic sinusitis since I was a boy. The silver has been the only thing that stopped the swelling infection and gave me relief. I don't miss the antibiotics and Dr visits!" ~ R Williams
"This Colloidal Silver works great. I love having a natural defense against flu and colds. We keep it stocked in the kitchen and bath. We use it for everything first aid, like cuts and burns and it makes a world of difference come flu season." ~ Dee M.
Discover what iwalu Colloidal Silver Immune Support will do for you…
HELPFUL INFORMATION

Your search for the best quality colloidal silver is over. When you purchase iwalu Silver Immune Support™ here's what you should do:
When you receive your package from us, you will have a fully tested and inspected dietary nutraceutical from an FDA regulated and GMP Certified Lab in the USA.

Open the container and review the, "Pro Advice and Tips" insert on how to maximize the benefits of the formula.

We typically include FREE BOTTLE OFFERS and special bonuses as a thank you to our online community, so please review all of what you will be receiving.

What separates iwalu Colloidal Silver from other brands is our pharmaceutical grade formulas with high concentrations of the bio-active compounds. Learn more about the active ingredients in each bottle…
Ingredients:
Verified 99.9999% Pure Colloidal Silver Bioactive Hydrosol, 10 PPM, Nano-Silver10 ppm IONIC COLLOIDAL SILVER, < 10 nanometer Nano Pure Bioactive Silver – in Ozonated (SUPER-OXYGENATED) Pure Distilled Pharmaceutical Grade Water. (Oxygenated silver particles work up to 200% better against pathogens) <10 nm micro-particle size for max efficacy.
NO additives, colorants, preservatives. Vegan, Not tested on animals.
Product Description
iwalu's SILVER IMMUNE SUPPORT: Don't stay home without it!
INDICATIONS:
➢ INTERNAL: As an immunity booster* take Silver colloidal minerals as suggested along with proper nutrition, exercise and vitamins for immune system support*
➢ ORAL RINSE / SPRAY: Take one teaspoon or five mouth sprays, swish in mouth for 30 seconds as an antibacterial mouthwash for teeth and gums oral hygiene and fresh breath.
➢ TOPICAL IMMUNITY AID*: Use as a natural wound care product for healing support.
➢ SKIN CARE: Apply topically for burns, cuts, skin blemishes and as an anti bacterial spray on acne supplement, acne medicine for face and back.
➢ LOCALLY: Silver nose spray, nose cleaner for sinus, sinus silver nasal spray, throat spray, eye care, feminine hygiene – feminine spray, immune support supplement*
➢ HOUSEHOLD: Spray on antibacterial disinfectant kill germs spray, antifungal spray and disinfectant spray for clothes and furniture.
➢ KITCHEN: Natural disinfectant antibiotic spray fruit cleaner spray, organic produce wash and water bottle cleaner.
➢ PETS: Keep in your PET FIRST AID kit for dogs, cats, birds, and other pets.
Dog and cat pet care examples:
dog and cat ear infection treatment,

dog and cat eye drops for infection,

antibiotics for dog and cat cough medicine,

dog and cat ear drops,

dog and cat eye drops or fine mist spray,

dog and cat antibiotics,

dog and cat wound care and animal cuts
FUN FACT: NASA reports silver ions and compounds are used as antimicrobial agents for medical applications and as a residual biocide in spacecraft water systems.
Try iwalu Silver Immune Support Today No Risk. You will love it!
Suggested Use:
The US Environmental Protection Agency publishes a reference dose (Rfd) for silver which is an estimate of daily exposure to the entire population that is unlikely to be associated with a significant risk of adverse effects over a lifetime.
Many people take the standard dose of one teaspoon each day for daily immune system maintenance and larger amounts for short periods of time when their immune system is compromised. Please remember to drink plenty of water especially during the first week because large numbers of pathogens may be rapidly exterminated within the body and the excretory systems work tirelessly to flush or detox out the dead germs.
Our dose is effective* and safe* – even if taken 7 times a day for 70 years, Silver Immune Support still falls below the EPA's reference dose (RfD) for silver. Our bio-active silver contains more than 98% silver ions and silver nanoclusters.
iwalu Silver Immune Support is vegan, gluten free, non-GMO and allergen-free.
Helpful Hints:
Take with NO food or drink. Hold under tongue for 30 seconds for increased absorption.

Spray direct on clean wound affected area. Allow to dry on wound for 15 minutes. Apply twice daily.

To reach full efficacy we recommend that you take supplements for a minimum of 60 days.

Remember, look for fitness tips and free offers along with your order. We want to ensure you have the "Practical How To" along with our community of support to succeed in your health goals.
How Colloidal Silver Works
A report compiled by scientists in 1996 at The Silver Institute concluded several ways colloidal silver benefits the body. Through a process called catalytic oxidation, silver binds onto oxygen molecules that react with sulfhydral compounds that tend to surround both viral and bacterial infections. This combination helps block cellular respiration that allows these viruses to proliferate, while promoting the release of harmful bacteria and waste. Silver binds with DNA without destroying hydrogen bonds that keep the lattice structure together. Research has found that this bond prevents the unwinding of the DNA, which is vital for cellular replication. Considering these facts may help explain how several medical literature and studies are now indicating a variety of health benefits of colloidal silver use.
7 Ailments Effectively Treated with Colloidal Silver
1. Fights Bacteria in the Body
Back in the 1980s, medical doctor and researcher Larry Ford successfully documented more than 600 harmful pathogens that colloidal silver was able to destroy in mere minutes of exposure. Furthermore, unlike prescription medications, colloidal silver doesn't build up immunity, making it highly effective as an antibiotic that's been proven effective to fight even the toughest superbugs.
2. Antiviral Diseases
There are both anecdotal and scientific accounts of the benefits of colloidal silver's antiviral benefits. Many people are finding success fighting illnesses including AIDS/HIV, herpes, shingles, flu, Hepatitis C and pneumonia using just a few drops daily of this precious liquid.
Fun Fact: Many historians claim that the reason the wealthy were able to escape the ravages of the Bubonic Plague is that they literally were born with silver spoons in their mouths, as the elite were known to use real silverware!
3. Skin Care and Wound Recovery
Research released in 2012 by the Pharmacognosy Communications Group purported that using colloidal silver is effective to treat topical burns, periodontal disease, and psoriasis. Other research suggests that the contagious conditions ringworm can be cured through the application of colloidal silver, as well as relieving skin scrapes, wounds, and preventing infection in bites and stings.
4. Inflammatory Conditions
Researchers at the National Institute of Health discovered that inflamed skin treated with this substance showed significant signs of recovery after just 72 hours, with untreated skin remaining much the same. Essentially, you have nothing to lose by trying colloidal silver to resolve any type of inflammation, including those of the lungs and sinuses.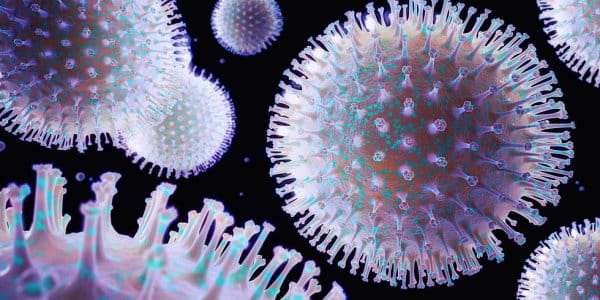 5. Sinusitis & Breathing Problems
According to a recent report in the International Forum for Allergy and Rhinology, colloidal silver kills Staph aureus which is a primary cause of sinus infections and chronic rhinitis. Many people are using it in neti pots and directly in the nasal passages in lieu of nasal sprays for temporary relief of symptoms. This means it's useful to help those suffering from colds, asthmatic symptoms, and common allergies.
6. Pink Eye & Ear Infections
When droplets of colloidal silver are applied directly to the eyes and ear canal, they seem to have a quick action on fighting viral and bacterial infections like pink eye and ear problems. The silver binds to the infected cells via electromagnetic charges and sends them through the bloodstream for elimination. This is a great alternative to prescription meds, especially for infants with chronic eye and ear conditions.

7. Pneumonia, Bronchitis and Flu Relief
Modern drugs and even preventive aids like the flu shot seem to have little effect on common illnesses like the flu, pneumonia and bronchitis. In cases where the condition is caused by a viral infection, they may prove useless where colloidal silver seems to be beneficial. Internal ingestion or using a nebulizer quickly gets this treatment right to the source, helping reduce inflammation and congestion while fighting the bug with its antiviral properties.
Peer Reviewed Data: