Description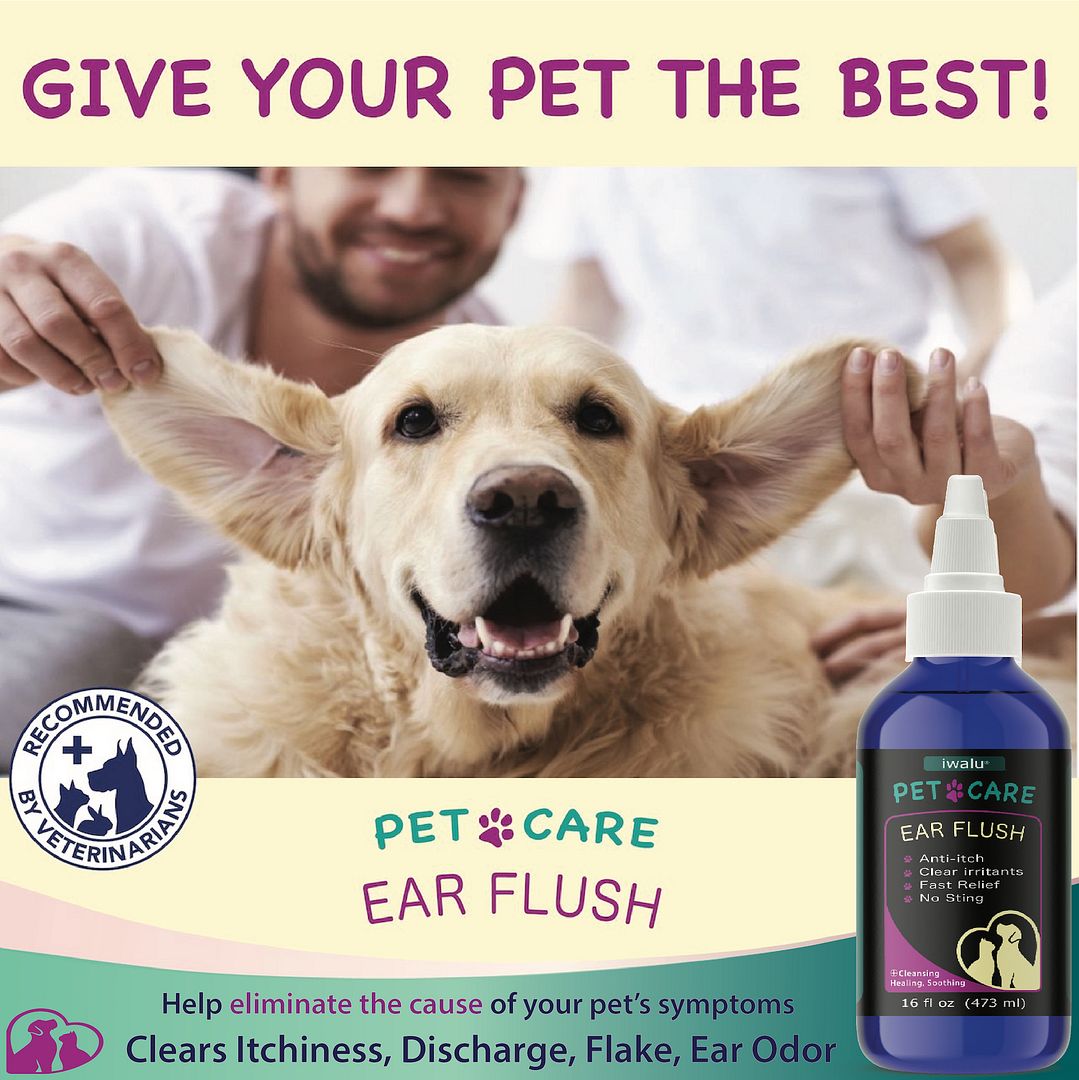 GTIN: 00850037971022
Dog Ear Cleaner Infection Treatment Benefits:
AntiBacterial, AntiFungal, Fast Relief, No Sting
Dogs – Cats – All Pets and Animals Safe
16oz with easy applicator cap, syringe, and wipes
Shelf life: Up to Five Years (Expiration on product)
🐾  No Taste Flavorless and Lick Safe
🐾  Non-irritating solution no sting
🐾  Use during routine cleansing of sensitive ears
🐾  Removes debris and excessive wax and dries the ear canal.
🐾  Rapid treatment for dog ear infection and inflammation
🐾  Does not interfere with other ear medicines
PRODUCT DESCRIPTION:
Iwalu Ear Flush – Dog ear cleaner and cat ear cleaner is a well-tolerated, efficient ear cleaner solution that facilitates the removal of cellular debris and excessive wax, as well as the drying of the ear canal.
The cleansing solution gives your pet a soothing effect (anti-irritant), as well as, limiting the bonding of microorganisms (anti-adhesive) to the skin's surface. Because it's neutral, our dog ear wash should not interfere with other ear preparations.
Combination of gentle yet effective ingredients that work together to soothe irritated ears and is suitable for all dogs, cats, kittens and puppies.
MADE SPECIFICALLY FOR PETS – Includes NO; pharmaceuticals, synthetic chemicals, hydrocortisone (steroids), solvents, or antibiotic drugs. Great for sensitive ears! Choose our high-quality cleaner to help clean your dog ears.
If you see signs of dirt, irritation, itching, bad odor, or discharge, iwalu Ear Flush may be able to help.
Multi-action medicated ear cleaner for dogs. Use for Itch, smell, and gunk buildup. Helps restore dogs' ears to a healthy clean condition in 5-10 days. Helps wash away common ear problems caused by built-up wax, dirt, and grime and leaves the ears fresh and clean. Just fill the ear canal and gently massage the base of your dog's ear.
For chronic ear problems, It's important to determine the cause of the underlying issue, so please consult your veterinarian if issues are recurring.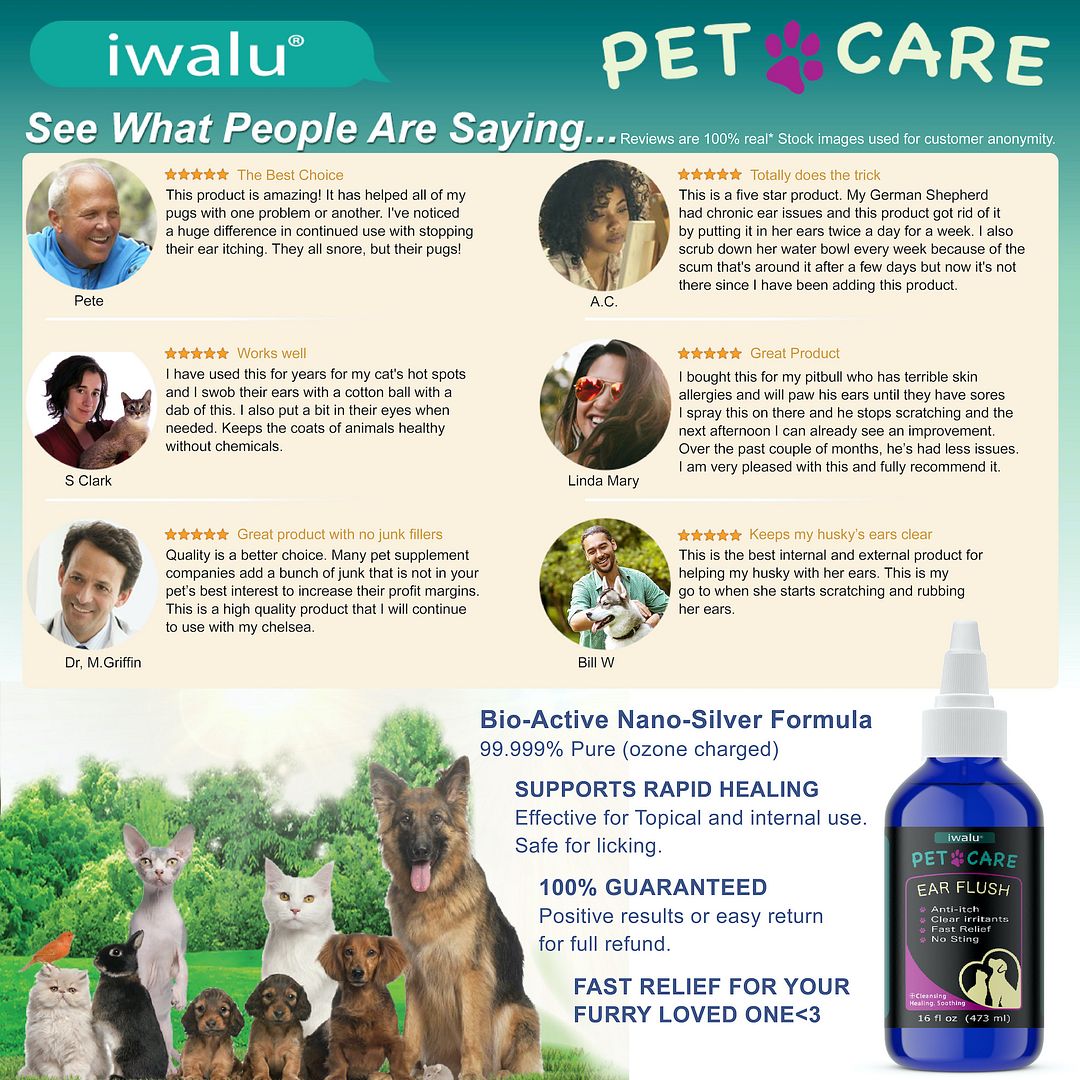 How to Use Pet Ear Drops, Otic Flush Cleaner?
For those pets that suffer from ear infections, colloidal silver is a natural alternative otic to safely use directly in the ear. 
INSTRUCTIONS:
Clean the outer ear and canal with the silver solution as a topical wash and utilize a sterile gauze to clean up the affected area.
Use the colloidal silver solution in the form of ear drops, 3 drops per ear.
Spray again on outer area and allow to dry naturally on the affected area. 
Treat twice a day for 5 to 10 days.
Marked improvement should be visible within three to five days. Consult your veterinarian if symptoms persist or worsen.
The bio-active silver solution is completely lick safe.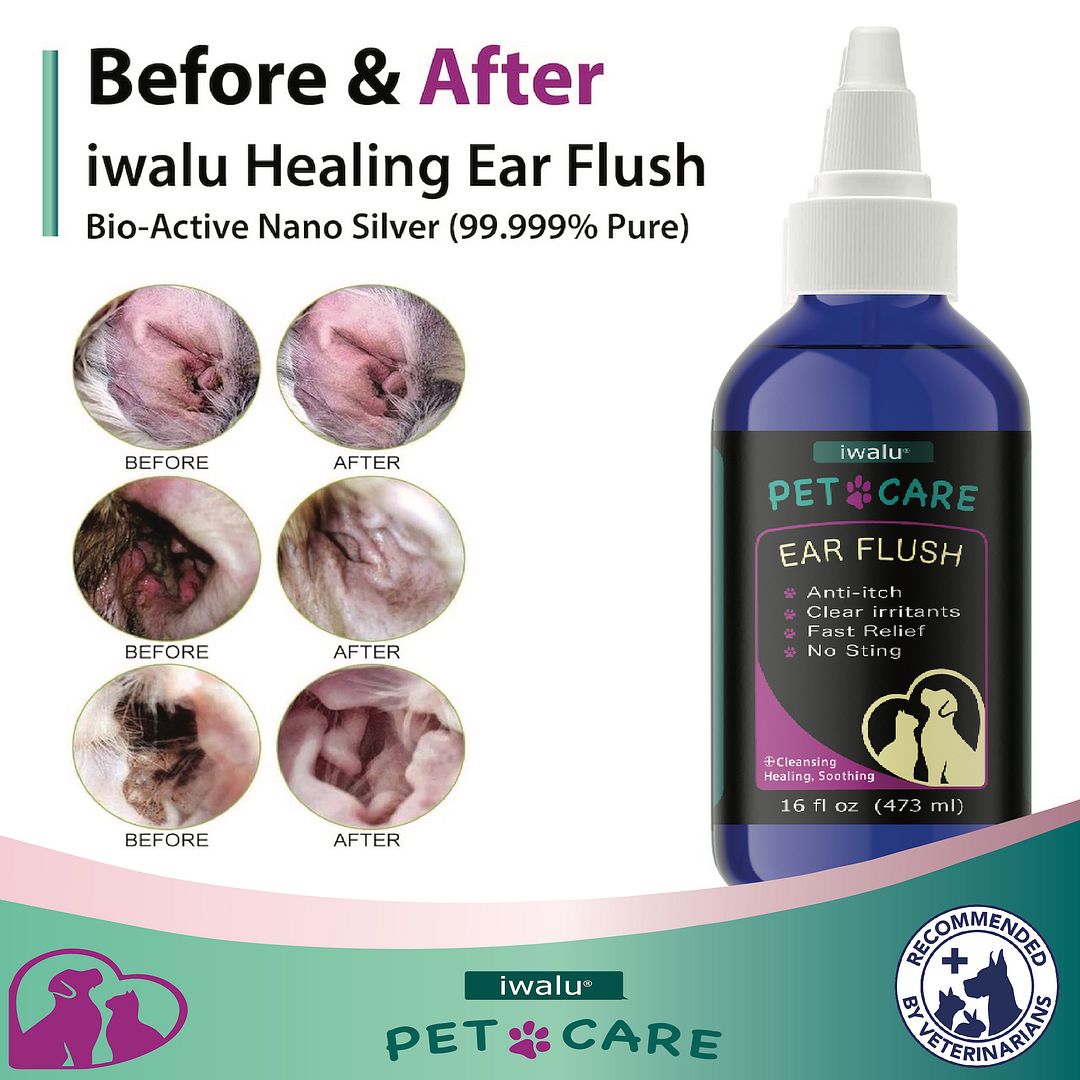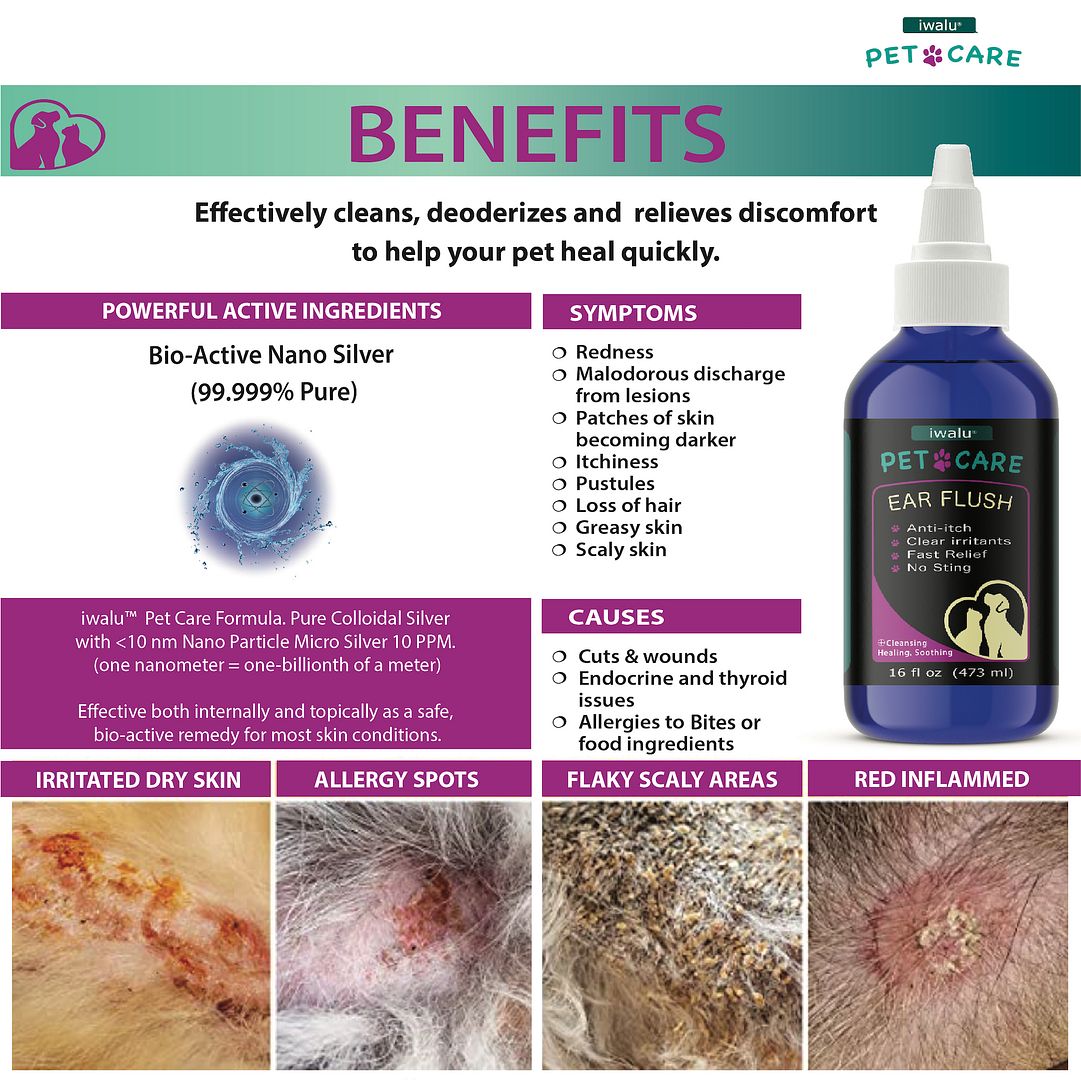 🐾  HOW IWALU PET CARE EAR FLUSH WORKS  –
As you are already aware, germs, fungus, and infections are all living organisms that count on oxygen for their metabolic processes. Usually, they utilize an enzyme to enable the use and process of oxygen.
The silver ions in the silver colloid attack this enzyme and damage it from within. Subsequently, these pathogens are not able to use oxygen and pass away.
Rely on iwalu Pet Care Formulas to give your pet the best care for all their wellness needs.