Description

Dog Eye Drops Rinse Benefits:
Itchy Allergies   Fast relief Antimicrobial No Sting
Dogs – Cats – All Pets Animals Safe
Each Bottle: 4 oz with easy open / close top. Syringe and wipes included.
Shelf life: Up to Five Years (Expiration on product)
No Taste / Flavorless / Lick  Safe
CLEANSES & TREATS IRRITATED EYES: Specially formulated Dog eye drops create an inhospitable environment in the eyes for germs and bacteria.
FIGHTS IRRITATION: Our Formulated dog eye wash is designed to help fight eye infections and irritations caused by foreign particles and air pollution.
KEEP EYES CLEAR OF STAINS: Regular use of this eye cleaner for dogs will help remove tear stains and slow down their formation.
GENTLE FORMULA: Cleanses and soothes even the most sensitive eyes.
SAFE AND EFFECTIVE: Iwalu dog eye infection treatment is a safe and effective way to keep a dog's eyes free of irritation and can help soothe effects from seasonal allergies such as smog and pollen.
PRODUCT DESCRIPTION
At iwalu we believe that pets are family, so we're bringing natural attention and care to your closest furry friends.
If you notice that your furry friend has red, watery or irritated eyes, or is frequently rubbing their eyes with their paw, they may be experiencing the discomfort of dry eyes. Fortunately, there are solutions that offer immediate comfort and relief to your furry friends to get them back to living life to the fullest.
Witness the power and effectiveness of our eye drops for dogs. The Eye Rinse is made with Colloidal silver that can flush out debris by mimicking our dog's own tears. iwalu dog eye cleaner is made with some of nature's finest ingredients for your peace of mind and a happy dog.
This formulated eye wash for dogs was created to be a powerful but safe way to clean your dog's sensitive eyes without any harmful chemicals or irritants. The 100% natural formula is made with the highest quality ingredients. This eyewash formula is perfect for your furry friends and is made in the USA.
It's important to determine the cause of the underlying issue, so please consult your veterinarian if skin issues become a consistent problem.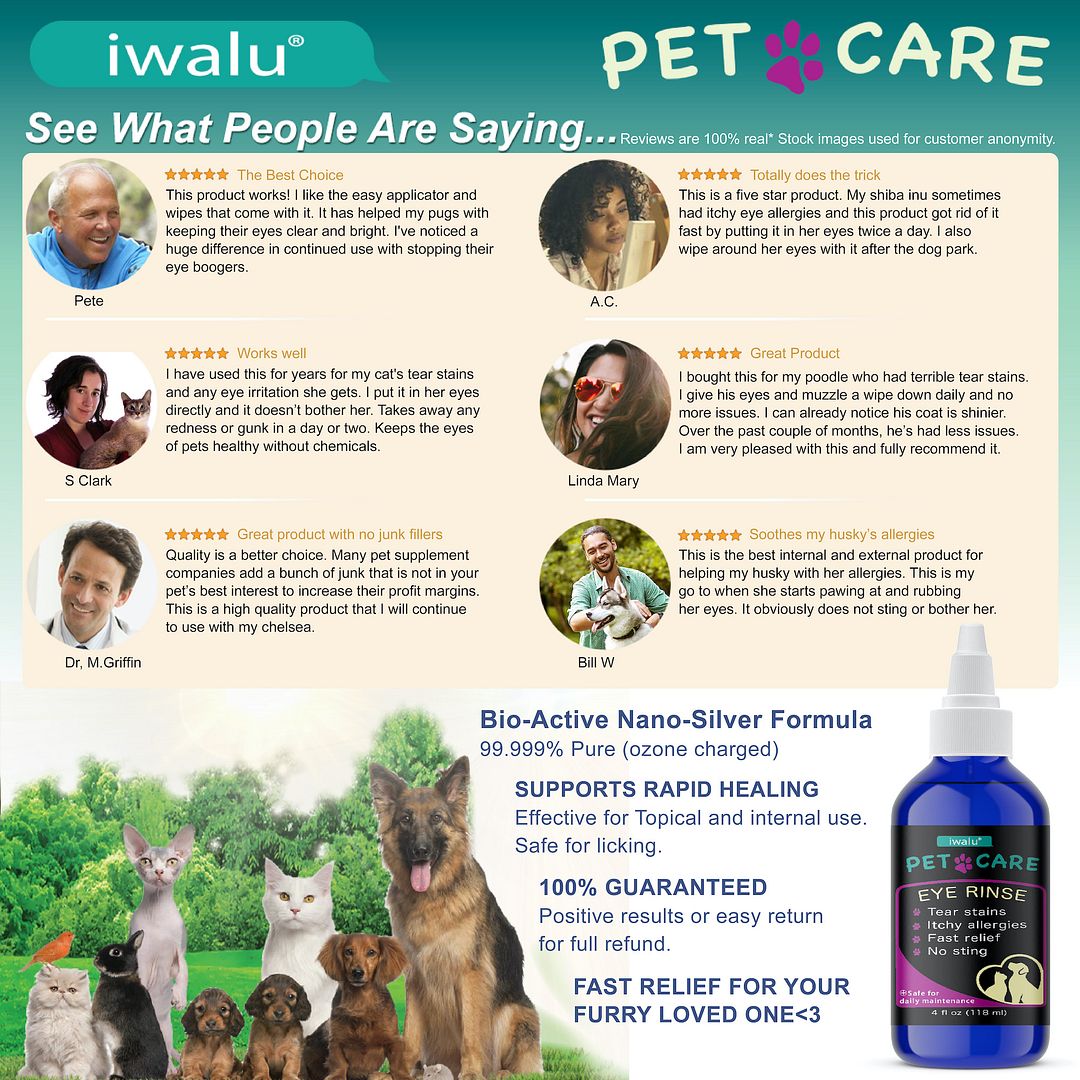 INSTRUCTIONS:
How to Use Pet Eye Rinse Drops?
Effective eye rinse treatment and tear stain wash:
Colloidal silver can help treat animal eye problems like infections, allergies, inflammation and tear staining. It can be applied directly without worrying about it stinging your pet's eyes. It is naturally soothing, gentle and does not sting mucus membranes or the eyes.
You can use it against various types of eye infections such as pink eye as well as allergic reactions to environmental irritants.
INSTRUCTIONS:
Apply 2 to 3 fine mist pumps or drops three times a day into the affected eye or follow the advice of your veterinarian.
When treating the eye(s), tilt the head away from center and apply toward the inside of the eye so that the solution exits the outer corner of the eye. This avoids infecting the other eye.
Marked improvement should be visible within three to five days. Consult your veterinarian if symptoms persist or worsen.
The bio-active silver solution is completely lick safe.
HOW IWALU PET CARE EYE RINSE WORKS  – As you are already aware, germs, fungus, and infections are all living organisms that count on oxygen for their metabolic processes. Usually, they utilize an enzyme to enable the use and process of oxygen.
The silver ions in the silver colloid attack this enzyme and damage it from within the pathogen. Subsequently, these pathogens are not able to use oxygen and pass away. The body then excretes these as waste, leaving the eyes and mucus membranes clean, clear and healthy.