Description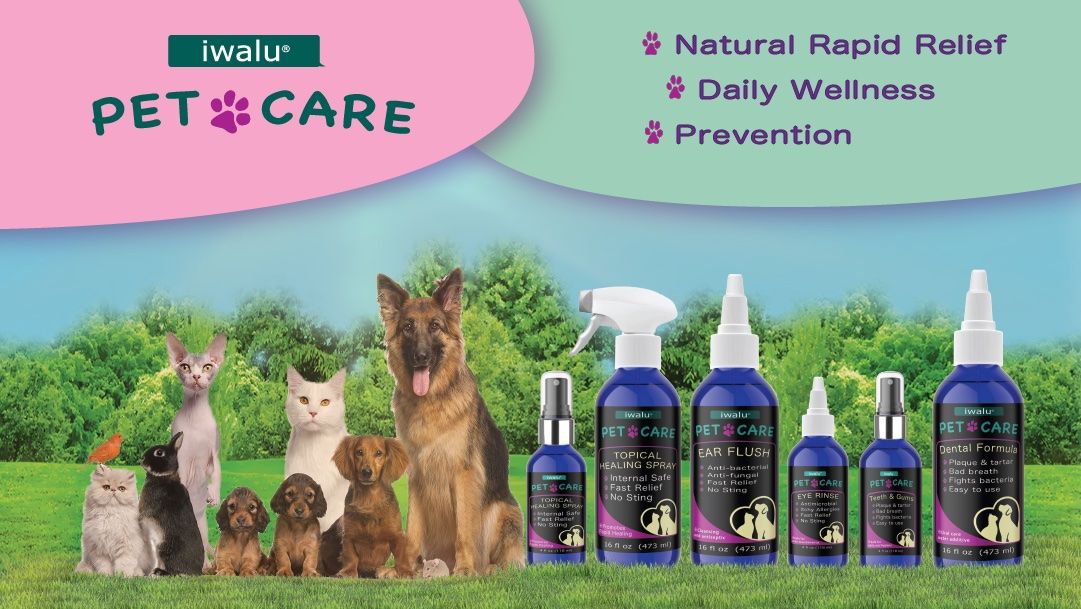 ---
GTIN: 160z 00850037971053 / 4oz 00850037971008
---
Skin and coat supplement for dogs, cats, pets – benefits:
🐾  Fast Relief
🐾  No Sting
🐾  Lick Safe
🐾  Promotes Rapid Healing
🐾   Soothing Non Sting Formula
4 oz or 16 oz easy application pump spray.
Shelf life: Up to Five Years (Expiration on product)
🐾  HEAL & SOOTHE –  iwalu Pet Care Topical Healing Spray Dog Itch Relief and Hot Spot Spray provides dogs and cats soothing anti-inflammatory relief of itchy skin and hot spots commonly caused by wounds, burn, allergies, insect bites, matted dirty coats & more.
🐾  FAST-ACTING – This itch relief spray works fast to help relieve your pet's symptoms including; biting, licking, scratching, swollen, pink-to-red, warm-to-hot, moist-to-wet, and progressively irritated-to-bloody issues associated with skin irritations.
🐾  VETERINARY RECOMMENDED – This anti-itch spray for dogs and cats is licking safe and is non-stinging for easy and safe use on all your furry friends.
🐾  FOR DOGS AND ALL OTHER PETS – This pet itch relief and hot spot treatment is for topical or internal use on all of your pets over 6 weeks of age. It has no smell and does not sting or burn when applied.
🐾  EFFECTIVE & AFFORDABLE – iwalu Pet Care Topical Healing Spray is created with veterinary-grade ingredients, available at an affordable price. We know dogs and cats deserve the best care because we are pet parents too.
PRODUCT DESCRIPTION
iwalu Pet Care Topical Healing Spray – Dog Itch Relief and Hot Spot Spray provides your pets with fast soothing and anti-inflammatory rapid relief of hot spots, itchy skin, and inflammation.
Treats other skin irritations commonly caused by allergies, insect bites, matted dirty coats, and more. It works fast to help relieve your pet's itching, biting, licking and scratching associated with skin irritations.
Our formula reduces itching, redness, and swelling while helping to stimulate wound healing. This Hot Spot and Itch Relief Spray is veterinary recommended and has been shown to help safely treat hot spots and skin infections from wounds, allergies, insect bites, and more.
It's a hypoallergenic anti-itch pet spray for topical use on both dogs and cats, puppies and kittens of any age.
It has no smell and does not burn or sting when applied. It is chemical and drug free,  both lick safe for your pet and safe for you to handle.
We know that your dogs and cats are more than just pets – they are part of the family.
iwalu Pet Care created our premium products so that pet parents can safely and affordably treat the health issues that come up. Your dog or cat will feel fast-acting relief from skin infections and you'll notice that your pet's skin is calmer, less inflamed, and the itching is controlled.
This makes both of you happy and able to focus on more important things like walks, playing fetch, and snuggles.
It's important to determine the cause of the underlying issue, so please consult your veterinarian if skin issues become a consistent problem.
INSTRUCTIONS:
How to Treat Pet Wounds, Hotspots, Scratching, and Fungal Infections?
You can use colloidal silver in the form of a topical treatment to fight against skin infections. The silver is calming and helps to repair tissue damage while soothing itchiness and skin allergy inflammation.
Yeast Infections tend to be an inflammatory skin problem in pets where the fungus attacks the sensitive skin. The infection can be quite irritating and either moist / weepy – or – dry / scaly. Colloidal silver helps fight the fungal infection while assisting to soothe and rapidly heal the skin. 
Topical usage is suggested when your pet has any bites, injuries, or skin conditions. Since it does not sting or burn, you can use it as a compress.
INSTRUCTIONS:
Apply the colloidal silver solution as a topical spray wound wash and utilize a sterile gauze to clean up the affected area.
Spray again, directly on affected area and allow to dry on wound for 15 minutes.
Fungal infections should be kept clean and dry.
Bandage if needed and protect from chewing and scratching.
Give treatment twice a day for 5 to 10 days.
Marked improvement should be visible within three to five days. Consult your veterinarian if symptoms persist or worsen.
The bio-active silver solution is completely lick safe.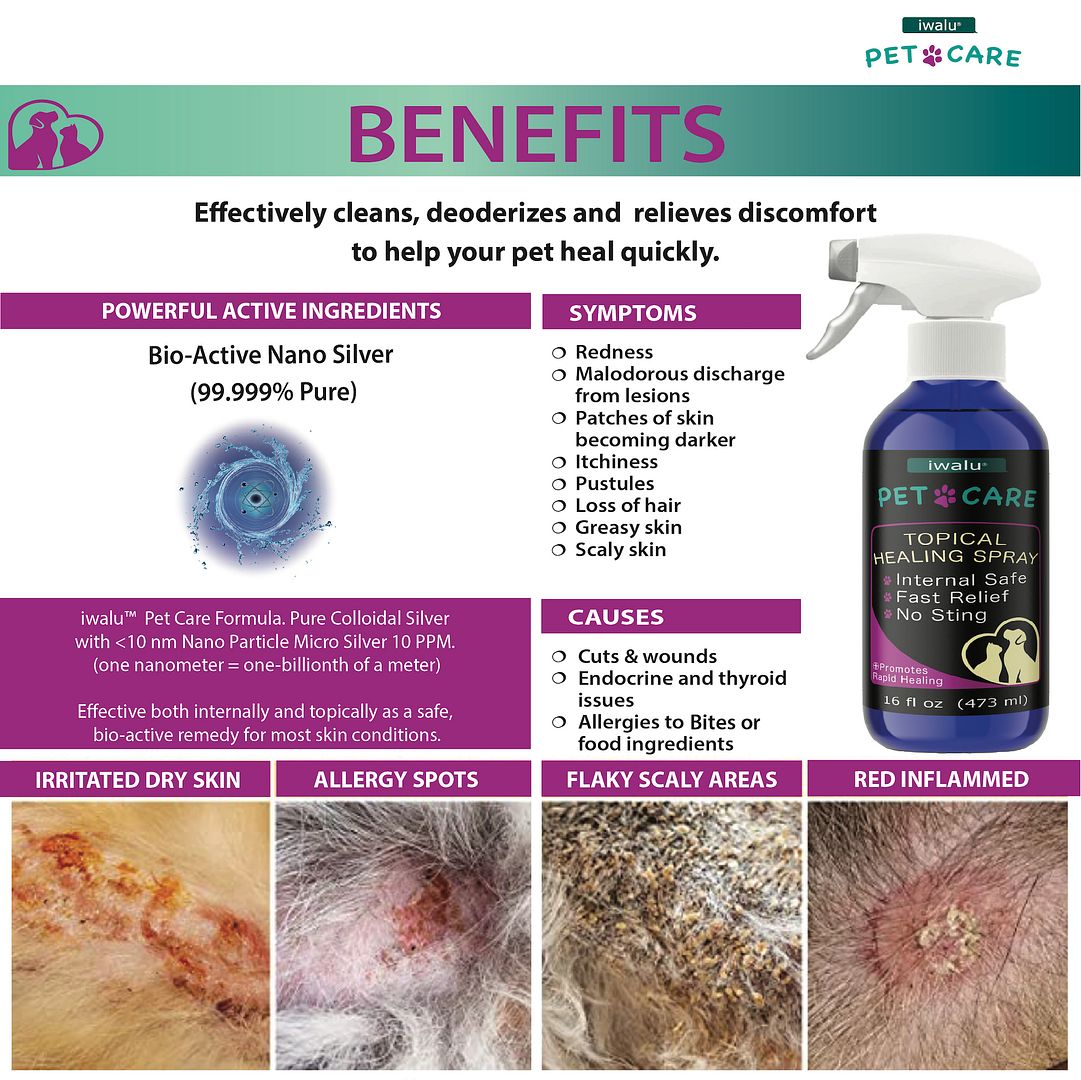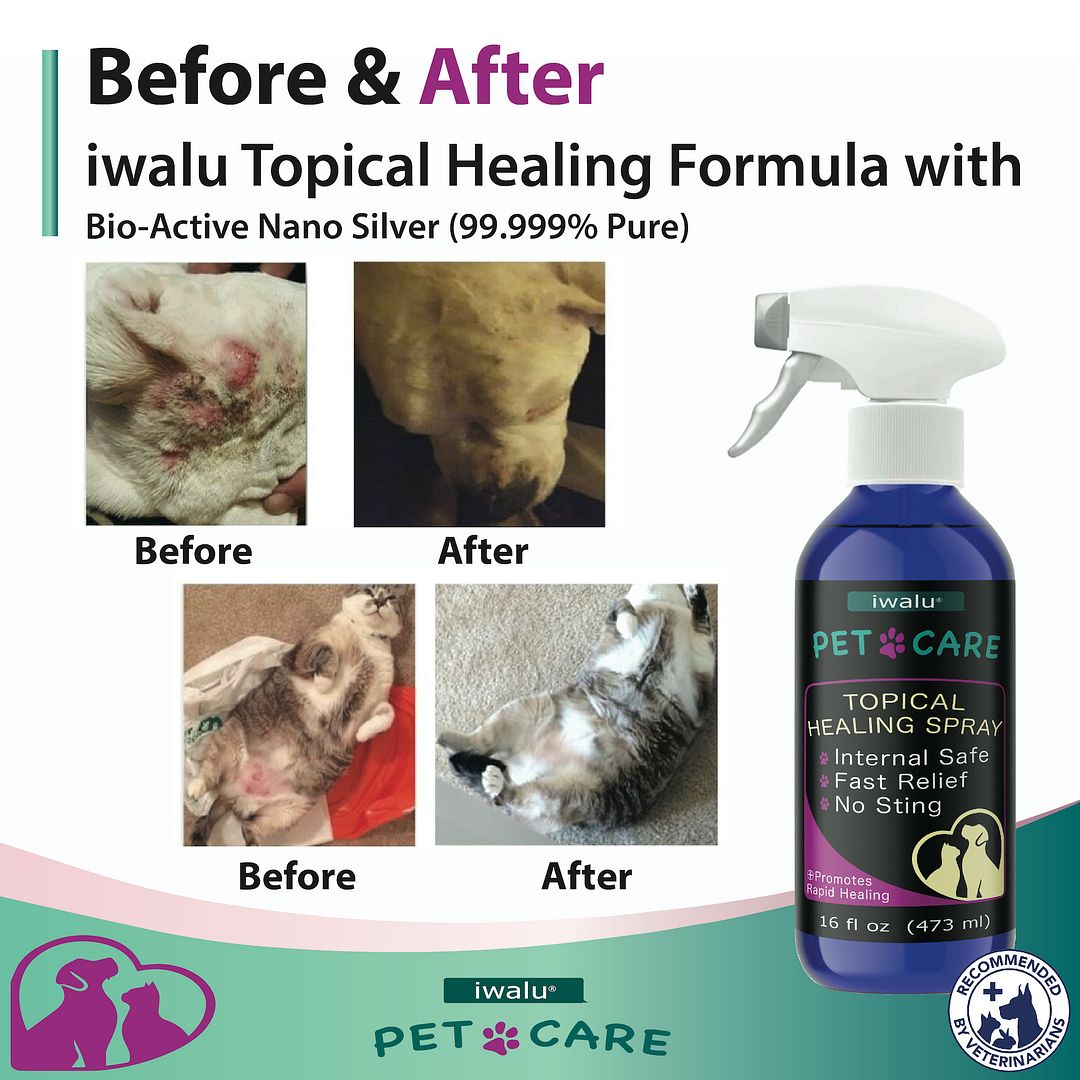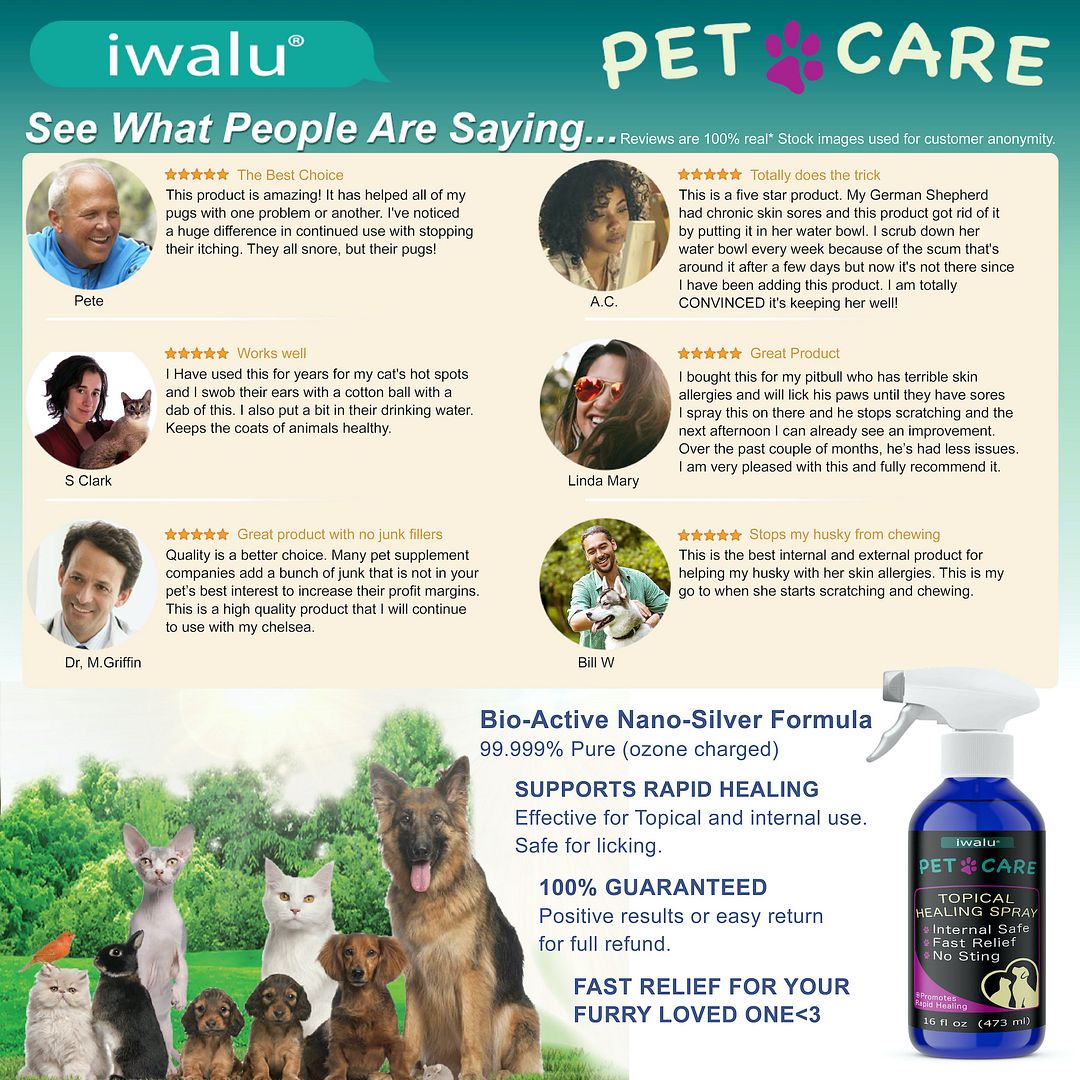 🐾  HOW THE TOPICAL HEALING SPRAY WORKS –
As you are already aware, germs, fungus, and infections are all living organisms that count on oxygen for their metabolic processes.
Usually, they utilize an enzyme to enable the use and process of oxygen. The silver ions in the silver colloid attack this enzyme and damage it from within. Subsequently, these pathogens are not able to use oxygen and pass away.